Respect the Classics
Hang on for a minute...we're trying to find some more stories you might like.
Moving from Kansas I didn't expect Pittsburgh to have such an active south Asian cultural community, much less a competition that was run by college students. Dance has and always will be something that I hold close to my heart, and the idea of being able to continue this passion throughout made me excited for college. 
Dhirana is the University of Pittsburgh's annual Indian classical dance competition. It's a nonprofit organization and all proceeds of the competition go to the Birmingham Free Clinic of Pittsburgh, which provides free medical care for Pittsburgh's underserved population. Pitt began the tradition of hosting a national, intercollegiate competition when Pitt Nrityamala, The University of Pittsburgh's premier Indian classical dance team, came in first place at Laasya 2011. As champions, the team won the honor of hosting Laasya 2012 on their campus. After winning Laasya, Pitt Nrityamala and the University of Pittsburgh created Dhirana to encourage Indian classical dance interest in their community. During the competition, Nrityamala showcases its talent alongside other Pittsburgh based groups like The Songburghs and First Class Bhangra. Dhirana is one of a select few nationally recognized competitions that features various classical Indian dance styles and art forms such as Bharatanatyam, Kuchipudi, Odissi, Kathak, Manipuri and many more.
My first time going to Dhirana was one of the best experiences of my life. The competition takes place in the Soldiers and Sailors Hall, which emphasized the grand feeling of attending the event. Not only do you get to see college students perform their own choreography but they have to be able to create a story that they can convey through dance. Between performances, you're treated to different exhibition acts that always amaze everyone in the audience. It was here that I realized how much I loved dance and wanted to continue it throughout college.
North Allegheny alum Jothika Gorur has been watching the competition since its conception "It holds a very special place in my heart. Being a 12-year-old kid at the time and seeing the best of the best come to your home town almost felt magical. I love Bharatanatyam so much so it is truly amazing to sit and watch those who share the same passion as I do."  Jothika inspired by watching the competition joined Pitt Nrityamala her freshman year and danced during the event this year, "Being a part of this organization is even more amazing than I remember. Everyone truly cares about it and they work so so hard to make the show enjoyable for others while donating to an incredible cause. Now that I'm a part of both the home team and Dhirana it makes my appreciation for the program grow even more."
Guru Smt. Shobhitha Ravi, a graduate of Pitt, and one of the founders of Dhirana not only promotes the competition to a younger generation but she also has been teaching for over 10 years. "[It's] one of the ways the current and next generation can continue to preserve and appreciate Indian Classical dance.  It provides an opportunity for college students nationwide who have been trained in classical dance to continue practicing the art form and an opportunity to showcase the beauty of Indian classical dance to patrons of the art and first-time viewers simultaneously." Mrs. Ravi is also proud of the competitions outreach towards the younger generation,  "[It's] an opportunity for young students to witness classical dance at an unimaginable level which increases their interest and motivates them to work harder. Additionally, Dhirana gives back to the local community by donating its proceeds to the Birmingham Free Clinic. The Pittsburgh community can help increase Dhirana's impact by donating to the cause, spreading the word, and simply attending the wonderful event."
I can definitely attest to wanting to work harder on dance when you see people who are almost your age putting on these amazing performances that they have to choreograph themselves. Senior Nanditha Ganesan who has seen the competition for the past 6 years " love[s] watching it because of the different styles, formations, and expressions."  Pittsburgh is a cultural hub that never ceases to amaze its citizens or those who come to visit.
About the Writer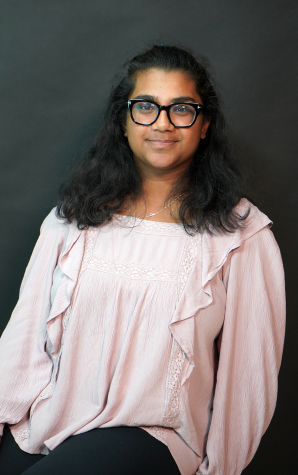 Somya Thakur, Staff Writer
Somya is a senior at NASH who enjoys music, dance and all things culture. She loves listening to podcasts and occasionally creating them.