ReFUELing Their Faith
A new club at NASH offers a faith-friendly space in school
Hang on for a minute...we're trying to find some more stories you might like.
A half hour before the rest of the school proceeds upstairs in the morning, a group of dedicated students makes their way to the third floor — and with Bibles in hand.  Every Thursday at 6:50am, the FUEL club meets in Room 310 for donuts, Bible study, and discussions about faith.
FUEL is a small group at NASH that is centered mainly around Roman Catholics; however, their program is open to more than just Catholics. Gregg Newmaster, a youth minister at Sts. John and Paul and volunteer at NASH, says its a chance for anyone to talk about their faith.
"God is an uncomfortable subject for many people," he said. "However, my hope is to give kids what I never really had in school growing up, a space to talk about the great mysteries and questions of life."
Newmaster is in charge of the fuel program at his church and welcomed the opportunity to extend his work to NASH before the start of school. He says he got involved at NASH through several different connections.
"First, there was a demand by North Allegheny parents and students, who are churchgoers at Saints John and Paul," said Newmaster. "They asked me if I could come before school once a week and give some sort of Bible study and prayer time with the students. My predecessor, Scott Lieb, had done this in the past at NASH, and it was asked if I could continue this undertaking. I happily obliged."
Aside from Newmaster, the club is run by Mr. Lyons, the club's sponsor, and Jack Eastly, its president. Other students, like Andrew Johnson, a junior, feel that the club has proved beneficial.
"It's a nice way to start the day and get focused, and it gives you an outlet to talk about your faith with other students," Johnson said.
The club's first meeting was held on March 14th, and members have been meeting every Thursday since. Their meetings consist of a reading from the Bible, followed by a discussion on the passage.
"We try to really concentrate on the words being read, so we can pinpoint what sticks out to us and be able to share it with others," added Johnson.
Newmaster hopes that the club will promote a healthy discussion of religion and faith, something he feels is important in our society.
"Religion is such a giant part of the human experience and has always been," he said. "I believe it should be discussed and allowed to be expressed in schools. If people want to pray together, then let them pray. If people want to debate their religious views, then let them debate it, whether you are a theist, atheist, or agnostic."
FUEL's doors are open for anyone interested. Donuts and discussion will be waiting.
About the Writer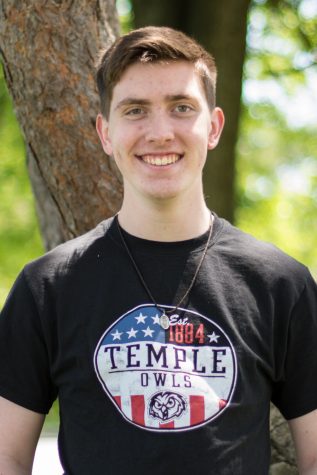 Connor Foran, Reporter
Connor Foran is a senior at NASH, an avid wearer of denim jackets, and a proud Bepis enthusiast. He plans to study international studies in college, travel...