Ahead of the Pack
Among the most successful athletic teams in the state, the Cross-Country boys and girls look to add to the trophy case this afternoon.
The Cross-Country Team has been there before — in fact, many times before.  The WPIAL Cross-Country Championship takes place this afternoon, and as usual the NA side has high expectations.
"The fact that everyone expects NA to win puts a lot of pressure on us, but we all support each other," Jenna Mlecko said.  "My motivation in every race is the girls I'm running for, not myself."
The North Allegheny Cross Country Boys' and Girls' Teams have won a staggering 16 state championships combined. Last year, however, their impressive histories took 2nd place to the long-lasting and seemingly unbeatable records that were smashed. During the 2018 season, North Allegheny won both boys and girls state titles in the AAA district, a feat that had never been accomplished before in Pennsylvania. 
"
We all think that we are a normal group of friends, but it turns out we can do some pretty cool things."
— Caroline Daggett, senior runner
Lily Kenna, who is not running in this afternoon's race, is eager to hear the results later today.
"I know my friends on the varsity team devote a lot of hours after school to their running, and I'm so happy to see all of their hard work pay off," Kenna said. "I predict the girls will win, as they did last year, and the boys will get top three."
Long-time head coach John Neff, who was recently named PA Girls Cross-Country Coach of the Year, hopes that, through hard work, the team might have another go at it this afternoon.
"I remember that first run in the summertime last year," Neff said. "I was excited — we don't use the word 'nervous' on the team — so I was definitely excited. I knew we had the chance, if everything went well, to win both titles."
Last year at this time, Assistant Coach EJ Robertson was overwhelmed by emotion on the day of the race.
"When the team is racing, it is kind of like an adrenaline rush, and I kind of feel like I am in the race with them," Robertson said. "That [race day] was total excitement.  I was sprinting from place to place to find a good spot to cheer for them."
Though they cannot run the race for them, Neff and his assistants aim to coach and motivate the runners to the best of their abilities.
"Coach Neff and I are usually talking on the phone during races, so we can relay information to each other based on where we are in the course," Robertson added.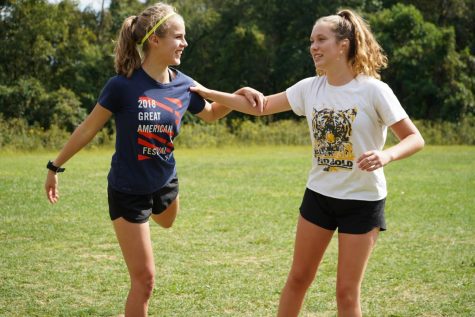 Senior runner Caroline Daggett shares the coaches' enthusiasm.
"It feels special because our team has been the same as it always been," Daggett said. "We believe in each other, and I think it's special how great something that we achieved actually is. We all think that we are a normal group of friends, but it turns out we can do some pretty cool things."
And it would certainly be cool if the boys and girls squads chalk up another WPIAL title and head back to the familiar territory of the state championship.