Alaska or Bust
In honor of Banned Book Week, the Uproar reviews "Looking for Alaska," a story that exemplifies the fact that not everything is always as it seems.
When most people hear the name John Green, they typically think of The Fault in Our Stars— the cheesy, popular novel that became one of the most recognizable chick-flicks of our time. However, Green also penned the lesser-known, even more insightful Looking for Alaska. 
It may not be such a well-known love story, but it's a book that resonates. I read it for the first time in sixth grade, and I've reread it at least once every year since.
And if you haven't yet, now's a great time, considering it's about to be a Hulu limited series that will premiere on October 18th.
Looking for Alaska centers around a teenage boy, Miles "Pudge" Halter, his adventures at a boarding school, his friends, and, most of all, his fascination with the one and only Alaska Young.
Alaska is one of the most complex characters in any book I've ever read. To many of the people around her, she's an idea. She's an image they've all created in their heads. It doesn't help that readers view her through the eyes of Pudge, who is convinced he's in love with her. 
But, really, she's a self-destructive mess. She drinks and smokes too much, lost her mother at a young age, and is continuously searching for some kind of validation. 
The complexity of Alaska's image versus Alaska as a flawed human being allows for incredibly profound story-telling. 
"
To many of the people around Alaska, she's an idea. She's an image they've all created in their heads."
It's important to note that this book has two parts: Before and After. And it doesn't have chapters. It counts down the days until the After— a tragic accident that leaves the characters reeling and breaks your own heart in the process. It's one of the many reasons the writing made me so emotional. A few chapters in, most readers can probably guess what may happen, and the countdown never fails to fill me with a sense of dread.
Some of the sentences in the book are the kind that you just have to take a moment and stare at. You have to read them four or five times just to truly appreciate the subtle beauty of it.
I would argue that there are very few boring parts in the book, but even in the couple of pages that seem ordinary or mundane, Green's writing keeps me intrigued.
Looking for Alaska is no doubt one of those books that will just make you admire the humanity of words and literature. It's one of those big stories that will give you a brand new perspective on your own life. It tackles grief, longing, and growing up. It manages to do so with a sense of nostalgia and sadness, along with an undeniable feeling of hope.
As a teenager, it's a story that will make you feel understood. And as a person, it's one that exemplifies what it means to be human. If you're anything like me, you'll laugh, you'll cry, and you'll end up smiling with tears in your eyes.
That's why it's a novel that should be on everyone's to-be-read list.
About the Writer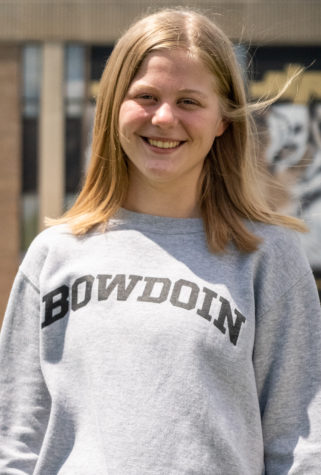 Kristen Kinzler, Co-Editor-in-Chief
Kristen Kinzler is a senior at NASH who loves expressing her opinions and drinking excessive amounts of coffee and tea. When she's not writing or rewatching Supernatural for the fourteenth time, she can probably be found playing lacrosse, reading, or watching hockey. She plans to attend Bowdoin College next fall.