Look At This!
Featured NASH artist Faith Nguyen
NASH is home to many aspiring artists, however few come close to exhibiting the unique perspective shared by 11th grade artist, Faith Nguyen. While young for her grade, her talents far exceed the status quo in terms of high school art students.
While many art students begin to focus on one form of art medium in high school, NASH junior Nguyen continues to explore and define her unique style in traditional forms, such as drawing and painting, as well as printmaking, embroidery, digital art, and filmmaking.
Her works have received several awards, including three Scholastic golden keys, a Best of SNO on a combined documentary project, a Scholastic national gold medal, an American Voices nomination during the school year of 2018-2019, and most recently, an American Visions nomination for a video entitled "My Blood Bleed Gold".
"Art has always been a crucial part of my life," said Nguyen, "but at the beginning of high school, I realized it was something I wanted to pursue as a career by becoming a filmmaker. The encouragement from some of my teachers has been really important in helping me gain the confidence I think I needed."
Nguyen currently has produced three solo short films, and several other collaborative projects, but the ideas for these films often begin in her sketchbook.
Below is a storyboard for an upcoming set of short films.
"It's just simple sketches/writings in pen that block out the general shots," she said. "I guess this is a very personal and 'behind the scenes' thing to be sharing, but hey, if I don't share it now, people may never see it, so consider yourself lucky for getting to view it."
"I decided that I wanted to go to film school when I was in 10th grade. I've been looking at schools like NYU, USC, Columbia, Emerson, and UCLA," Nguyen added. "My goal is to make full-length motion pictures that will reach the largest amount of people possible, something that will create a genuine impact. I want to shed light on stories that need to be told and use art as a tool to speak to the world."
Even when assigned projects for art class that fall under some rather restricting guidelines, she still finds a way to work pieces of her own story into the work that she does.
"The title of this small painting is 'Forgotten silk', and it's based off farmlands in Vietnam, with a small figure in red sitting in the center of it all," she said. "I am partially Vietnamese but somewhat detached from that culture. I never learned the language, and I don't know much about customs or traditions there, so I wanted to create a piece that played off of a lost nostalgia and a bittersweet feeling."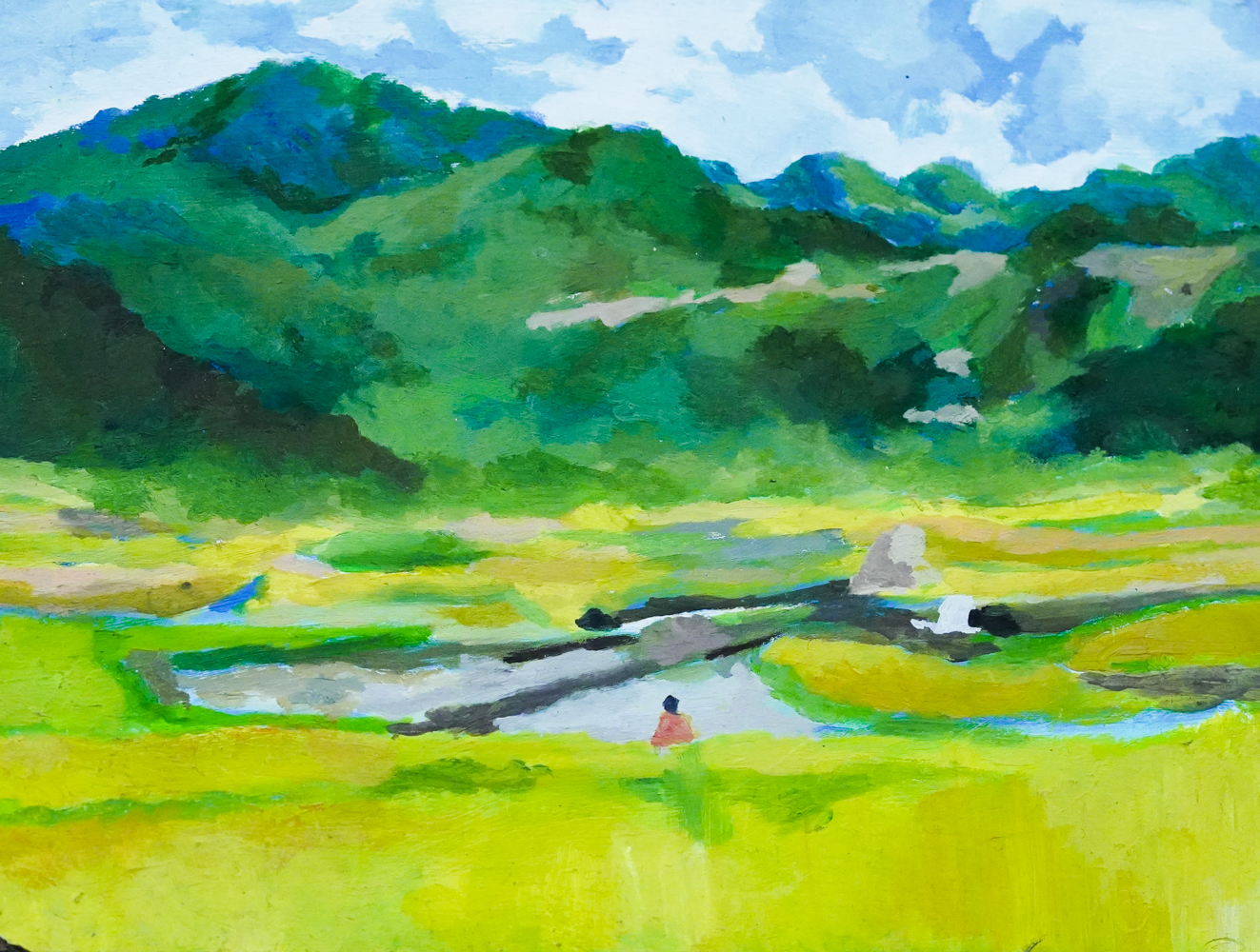 Many of these pieces have come out of class assignments for art courses throughout her high school art career. Project restrictions often seem to make students feel creatively suffocated, but Nguyen touched on the positive side of how school has helped shape some of her favorite works.
"I like having a little structure, because the boundaries help me reign in my ideas," she said. "I don't like too much restriction, but being provided a backbone helps me hone in on finding the style and atmosphere of the piece."
Below is an observational series of a geode fragment Nguyen received when she was a small child.
"The series is the same object from three different angles, and was done in ink and watercolor," she explained. "This one was interesting because they're fairly large drawings, and it was definitely a challenge to work on a larger scale than I'm used to."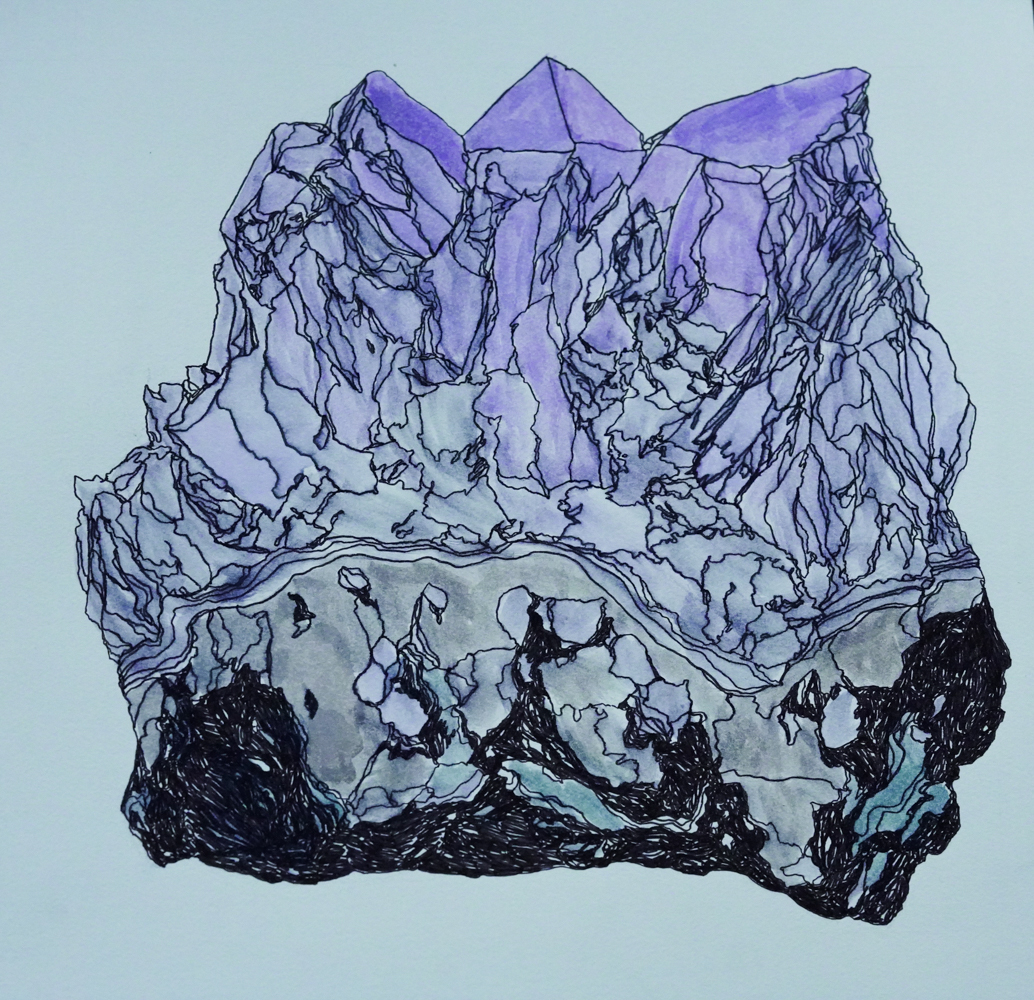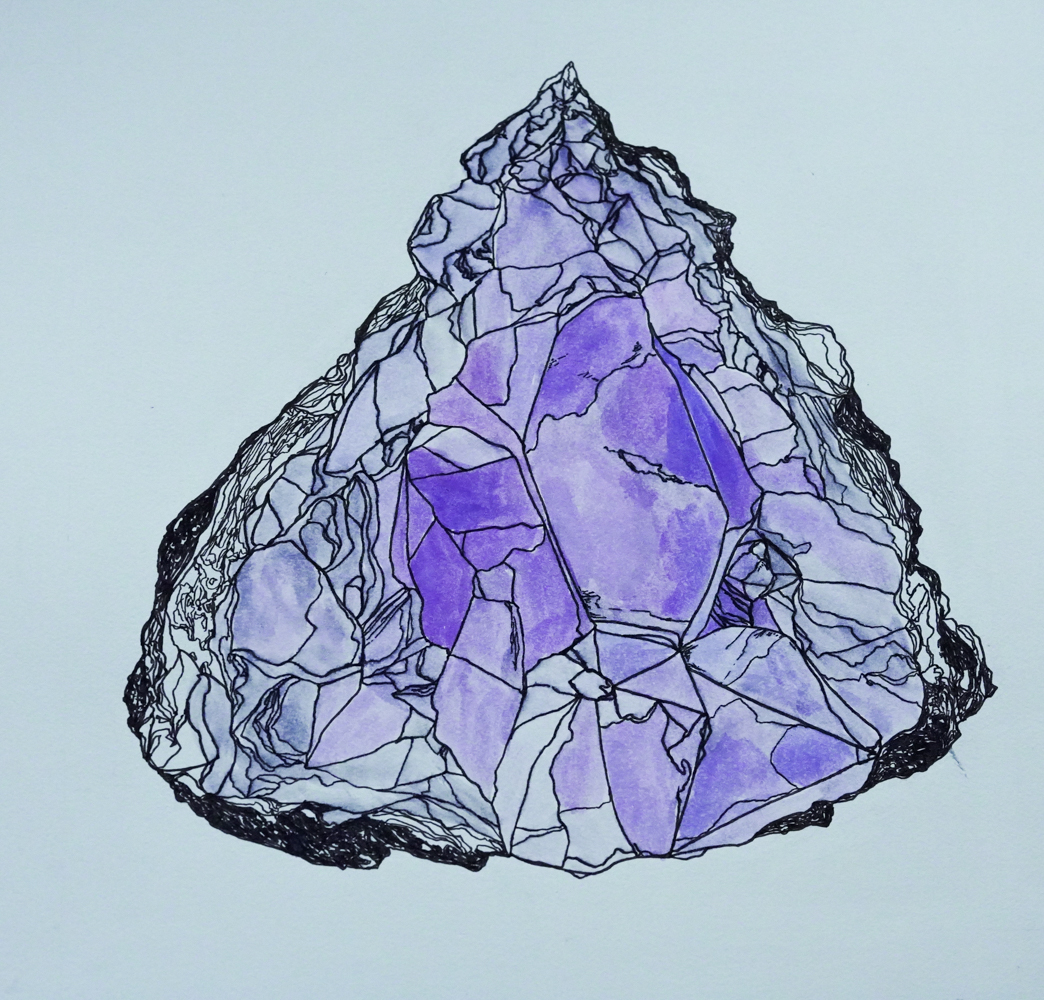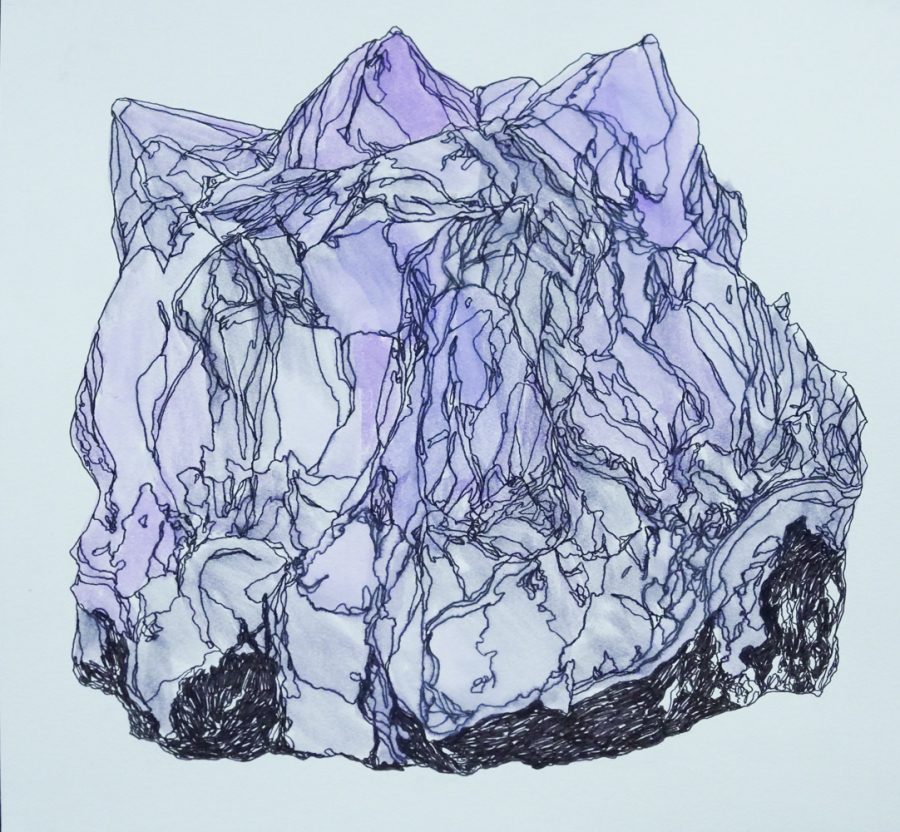 The series of geodes was the product of one of Nguyen's in-class assignments, but beyond the classroom, she prizes the freedom to create at home.
"I think it is very important to create outside of school," she said. "I find myself thinking about more creative things, sketching on school papers and scheming ideas for short films, even when I am supposed to be focused on other things like math or history. I'm a daydreamer, sue me."
Whenever the school day is over, sometimes the mess that fine art entails is too much of a burden, so she turns to digital mediums instead.
"This is a comic about a French man with no family left that deals with the harsh reality of illness and death, which I tried to depict metaphorically," Nguyen explained. "The large majority of this comic is all from observations I made while in Paris and Reims in France this summer. I created this in Adobe Photoshop, and let me tell you, this one took such a long time to complete, because when you can 'ctrl+z' and add layers, your obsession with detail heightens by 100 times."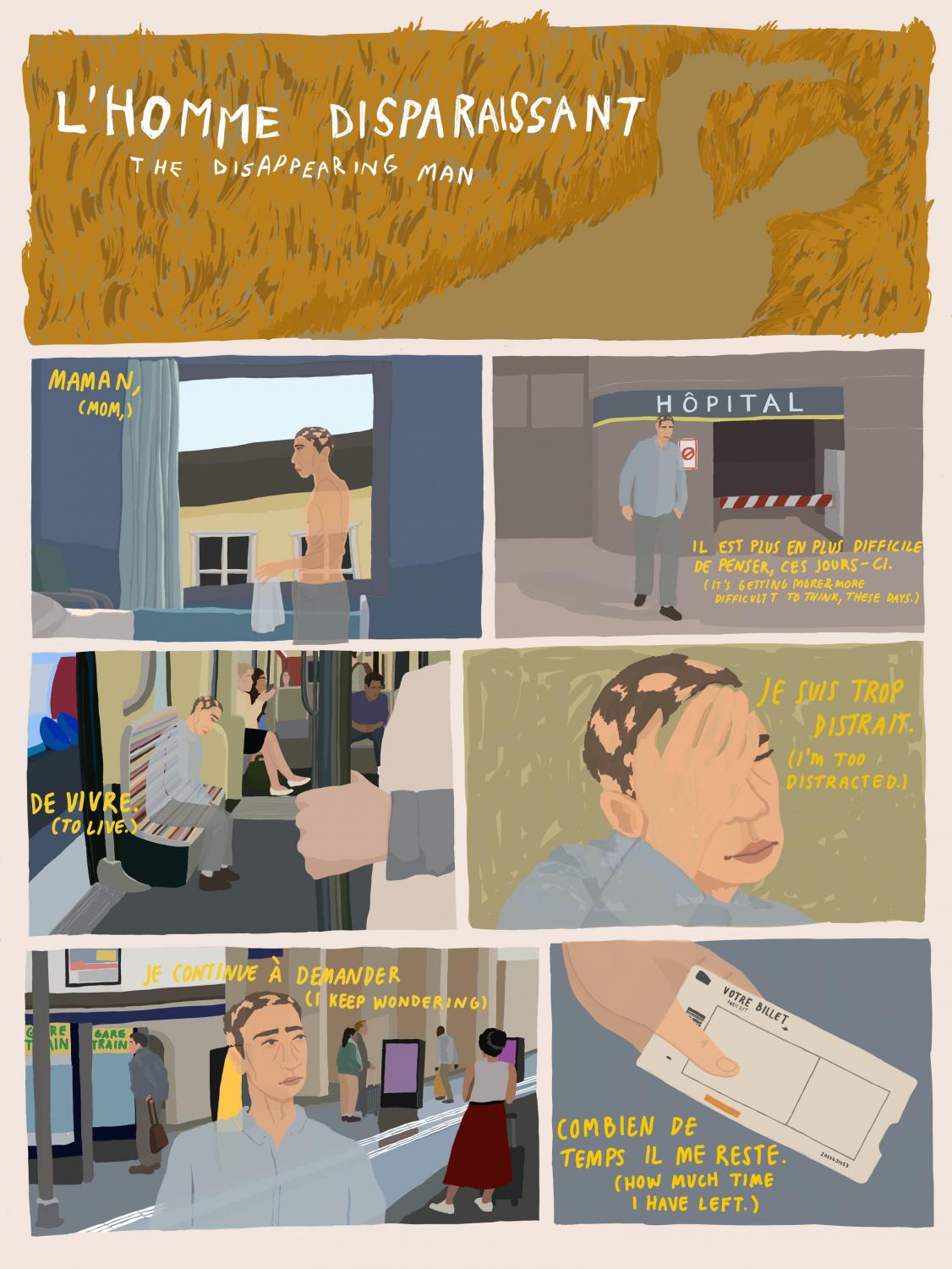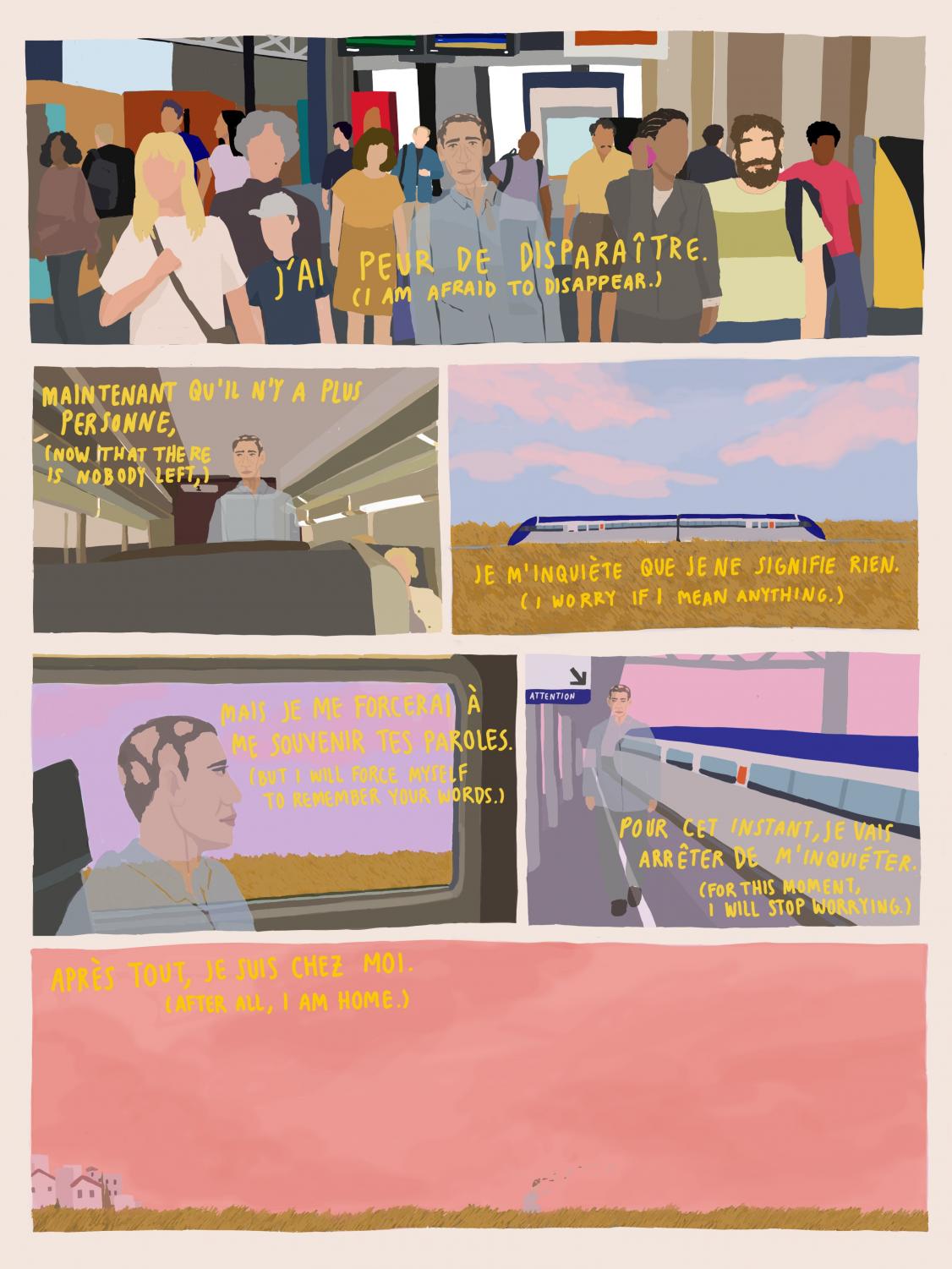 However, it is Nguyen's unique perspective that seems to set her art apart from the rest.
"I think art is becoming more and more of a product," she said. "Art is increasingly orbiting around commercialism, and there's a building pressure to force uniqueness because that's what sells, but fine art is something I value more for personal fulfillment. Of course, it's great to create art for a career, but there needs to be a healthy balance between creating for yourself and for others, and that goes for film, too. If you're not enjoying what you're doing, what's the point?"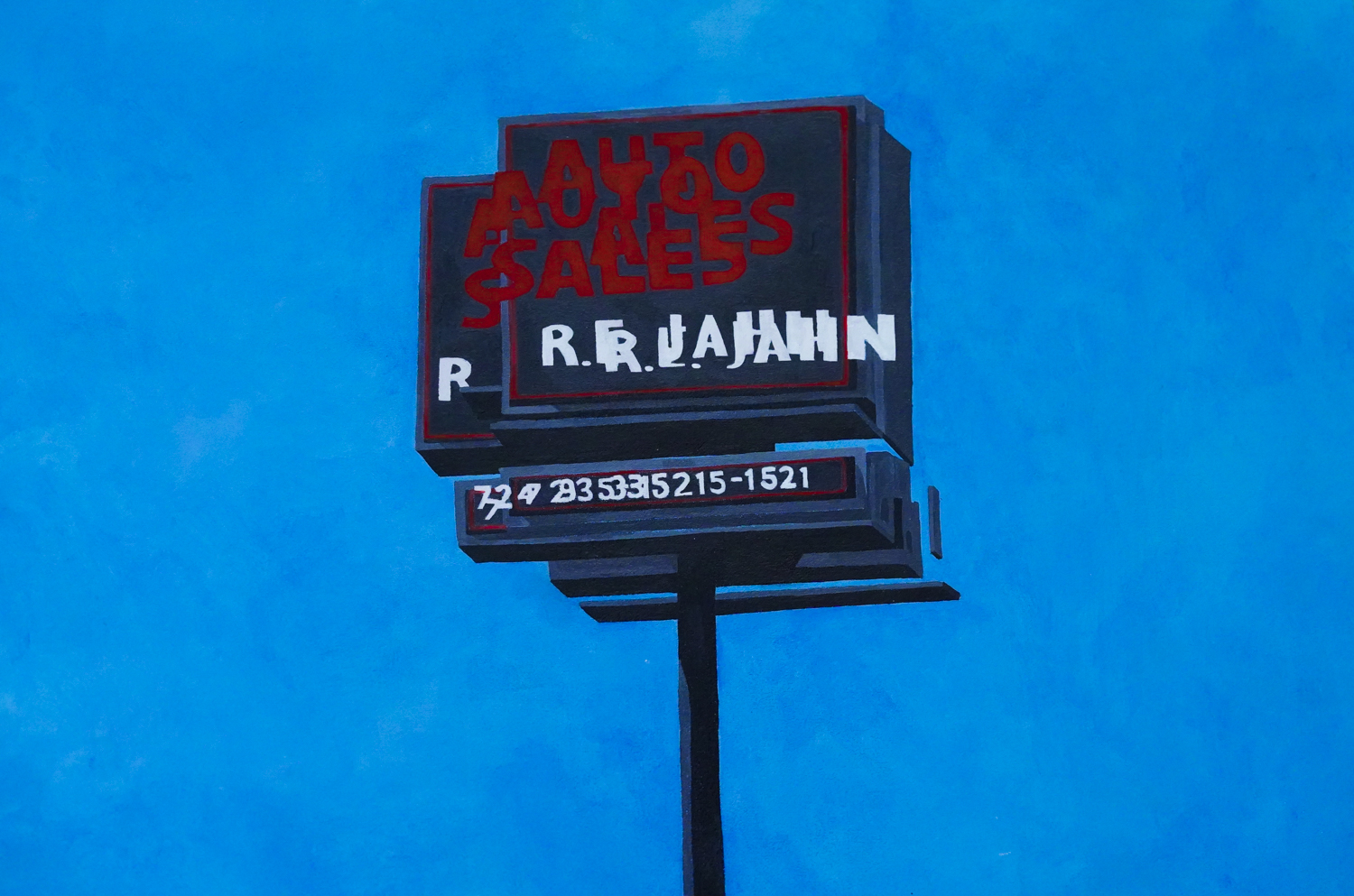 "The piece above is of an Auto Sales sign, which some may recognize, as it stands outside fairly close to NASH," Nguyen said. "However, I thought it'd be plain to just straight up paint a boring sign, so I deconstructed it and, dare I say, went off a little bit. The piece was actually hand painted with ink meant for printmaking."
Nguyen's perspective isn't always conveyed through direct observation, however. She noted that a majority of her inspiration comes from elsewhere.
"As stigmatized as it is, I usually take a lot of inspiration from the internet," she said. "And I don't mean just stealing random pieces off the web, but rather finding information about pictures, films, and stories about cultures and subcultures from all over the world. I love spending hours learning about different and new things, and it often inspires what I create, whether it be art or film. And I don't think there's any shame in drawing inspiration from the internet, because that's what it's for. It's meant to share ideas."
The two-page spread below in Nguyen's sketchbook is two reference images made into one.
"The background is based on a photo I took in the streets of Paris, and the woman is from a photograph from someone I follow online," she explained. "It's in ink and watercolor."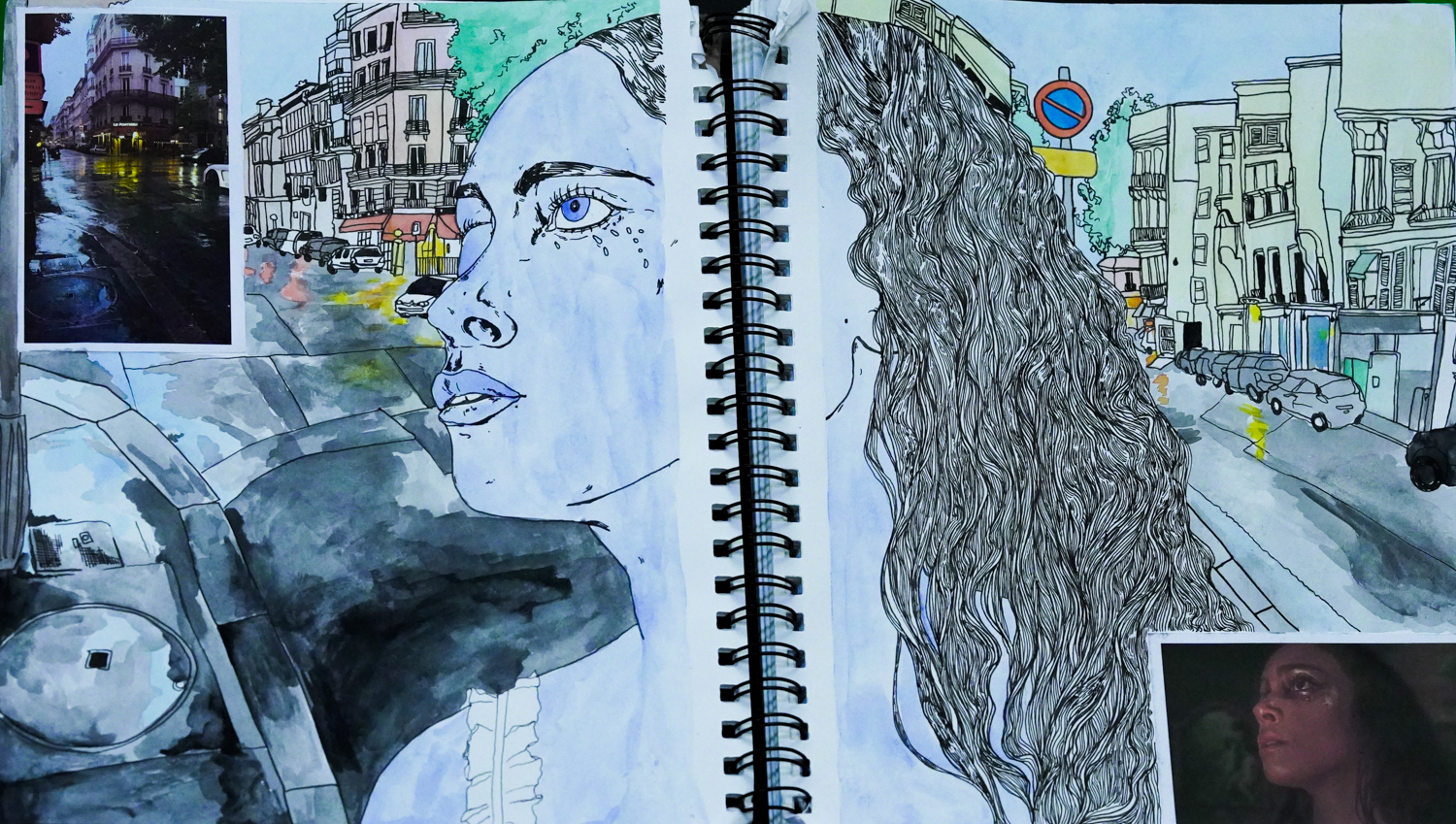 "[Art] is a way for me to vent and express myself," Nguyen said. "Everyone has their outlets, and this is mine. I think from the start I've always been creating and it has influenced my thought process and my view of the world. It's definitely shaped me into who I am now, because when you create, it finds ways to infiltrate other parts of your life, and you find yourself seeing the world in a completely different way than people who don't actively pursue creativity."
The title of the painting below is "Morwen Town," and it's of a quaint little autumn forest and lake.
"Although it's rather simple, I like to think this patch of land is part of an imaginary town from a story not yet told," Nguyen said.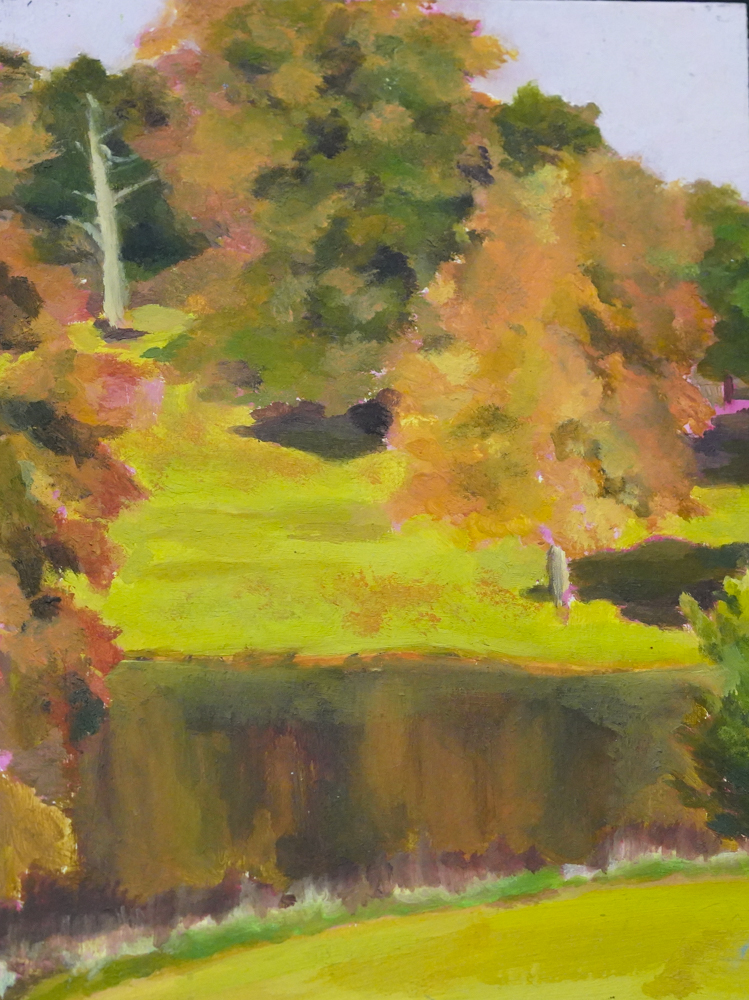 She is certainly not done creating, nor is she done building her own legacy through her artwork. One day, her name may appear in the credits of a movie, but for now, fans of her artwork can observe these humble, yet strikingly impressive beginnings, eagerly awaiting what will come next from the creative stylings of Faith Nguyen.
Leave a Comment
About the Writer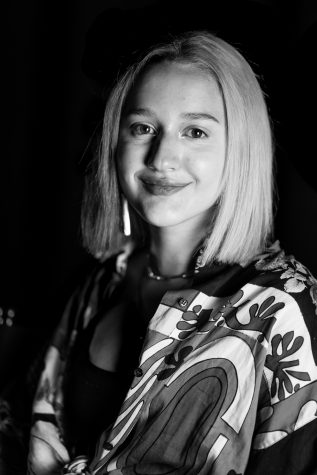 Julia Poppa, Photography Editor
Julia is a senior at NASH and is delighted to be this year's Photography Editor. She uses she/they pronouns and is passionate about making a positive change in the world. In her spare time she enjoys reading about philosophy, photographing the world, creating art, writing, and caring for her plants. She hopes to become a helicopter pilot one day and dreams of going to school in New Zealand.