Congrats, Stranger! You're In!
Amid the pandemic, colleges have taken to unconventional techniques to boost enrollment numbers.
Last week, I was surprised to receive an email from Long Island University in Brooklyn, NY, granting me admission and a hefty scholarship of $20,000 a year. Though the news was exciting, I was undoubtedly left shocked. For starters, I never even applied.
With the growing surge of COVID-19, colleges and universities around the world have been driven into a financial crisis. Schools have had to invest in services that were never utilized previously. In fact, the University of Pittsburgh has invested an extra 22 million dollars into housing for students this year alone. The school has partnered with several local hotels in order to "de-densify student housing."
That's not all. Dining plans have seen some drastic changes as well. For students quarantined in dorms, schools have had to implement meal delivery services. Back in August, NYU was in the spotlight, as TikToks showing peculiar meals went viral. Vegan students received chicken salads and milk, and some received no meals at all.
While tuition generally remains unchanged, many school administrations are under pressure to justify the cost for a lower-quality remote education. Unsurprisingly, nationwide college enrollment is down nearly 4% this year. Community colleges, arguably being hit the hardest, are down 9.4%, according to Forbes.
First-year students alone make up 69% of this drastic enrollment drop, and the reasoning is simple. Students go to college seeking independence, responsibility, and of course, a quality, hands-on education. Without these important factors, the cost is too steep for some. Why spend tens of thousands of dollars to sit at home when you could take a gap year?
Harvard has always offered students the opportunity to defer admission and take a gap year. This year, however, the number of incoming freshmen who chose to defer was about 20%, three-times more than usual.
Taking even more of a toll on colleges and universities, admissions officers have had to rewrite the application and admissions process, a process that has been set in stone for years.
Many seniors are unable to report SAT and ACT scores, as test administrations were postponed and even cancelled. In response, colleges that are typically test score-dependent have had to utilize the holistic approach. 
"
It's going to take a complete retraining of how we review applications and what we're looking for."
— Jeff Schiffman, Tulane University
"We're going to have to hit the reset button hard on this one," said Jeff Schiffman, Tulane University Director of Admissions, in a recent interview with NPR. "It's going to take a complete retraining of how we review applications and what we're looking for. We're kind of figuring it out as we go."
But whether such changes will make applications easier for prospective students varies from applicant to applicant. For example, a student with a high GPA who struggles with standardized test-taking may have a better chance of gaining admission to prestigious colleges than a student with lower grades and high test scores. 
Admissions officers have also implemented many new tools, including ZeeMee, a social media website that allows officers to view students' personal portfolios. By using resources like this, officers are able to further view applicants as whole persons, rather than mere test scores and transcripts. Though this new process is temporary, it could potentially sway colleges and universities to continue the holistic approach in the future. 
But another problem still remains—the sheer number of applicants has dropped significantly. In fact, the Common Application has already reported an 8% decrease in applications so far this year, forcing schools to reach out to seniors, offering waived application fees and scholarship money as incentives to apply. Some have even gone so far as to accept students that never applied just to maintain their acceptance rates.
For instance, a college that receives around 10,000 applications per year and is only able to accept 4,000 will have a 40% acceptance rate any given year. But what happens this year when significantly fewer kids apply? In order to maintain that 40% acceptance rate, they're reaching out to those who have shown interest in similar schools, offering acceptance without an application. 
It's no doubt a landmark year in college admissions offices. College and university officials nationwide have called out to the Class of 2021, urging them to plan ahead and apply early. With the sudden decline in applications and enrollment, schools are struggling to stay open next year, and some may even have to close their doors forever.
Amid all of the struggles the world is facing today, Angel Pérez, CEO of the National Association for College Admission Counseling Students, has one final takeaway for the future:
"It's never been more important to call upon the entire community to help recruit the class," he stated in an interview with Inside Higher Ed. "Students, staff, faculty, trustees, alumni, and parents can make a significant difference this year. Every constituency should be a cheerleader for the institution, not just the admissions office." 
About the Writer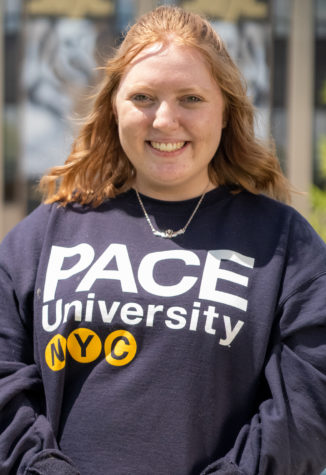 Lucie Flagg, Co-Editor-in-Chief
Lucie Flagg is a senior this year. She enjoys the finer things in life, such as sushi, napping, and her dog, Daisy. Along with writing for The Uproar, she also contributes to NATV. Outside of school, Lucie works at Naturally Soergel's, and she watches Impractical Jokers whenever that's not happening. Lucie plans to attend Pace University in New York City next year to pursue a career in media production.