A World without COVID
Life on Chenega, a small, remote island in Alaska, is unique in practically every regard, not least of which is that it has eluded the reach of the coronavirus.
Since last March, the unending media coverage of the pandemic would have us believe that COVID-19 has left no one's life unaltered. But for teenager Dasia Gall, life hasn't changed all too much this year.
Dasia lives in the small island town of Chenega, Alaska, with a population of 40 citizens. Amazingly, on Chenega, there have been no COVID-19 cases. From March until August, no one was allowed to go into or out of the island, helping eliminate the spread of the virus.
"By having such a tight-knit community, we have all been able to work together and eliminate any spread possible," Dasia said in a recent online interview with The Uproar. "It's such a relief being able to live a normal life, although I do feel bad for others who are still unable to."
As a result, the residents of Chenega has been able to live life as usual without having to worry about masks and social distancing.
Dasia, one of only four teenagers on the island, has recently gone viral on TikTok and has gained over 200,000 followers after filming and posting day-in-the-life videos on the island.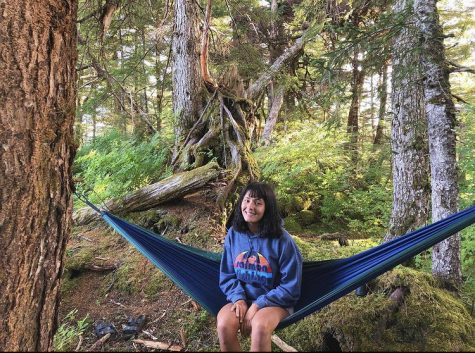 The island community is predominantly Russian Orthodox. There are only a few buildings on Chenega that are not homes. One mini-building, called the Dockside Store, is open for locals to get snack foods throughout the day. Most families have meals ordered. As shipping fees add 50¢ a pound to imported food, groceries and prepared foods tend to be expensive on the island.
One other prominent building on the island is the school. It only contains 16 students K-12 and one teacher, which makes getting an education rather difficult.
"Going to school, just like every other task on the island, is a whole journey on its own," Dasia explained. "Most students just walk, while other students have to take their boats to school every day. Something most outside people find that's a little weird about our school is the size of my graduating class, which is only three people including myself."
Live on Chenega is not easy, to say the least. There are no houses, there is no land for sale, and there are very limited job opportunities. When Dasia's family moved onto the island, their main reason was the school, which was in danger of closing and needed three more students for funding.
"My grandparents used to live here, but in 1964, a tsunami wiped out the original island, so my dad and his parents left," Dasia explained. "They rebuilt in the past twenty years with such a small population and needed support. When the school was close to closing, we knew it was important to go back and help to keep the community thriving. In doing so, they reached out and we decided to go back to my family's sacred lands."
Dasia understands why people may want to visit the island, but she wants them to understand it is more than a vacation destination. 
"This is my ancestral land, and it is very sacred. I don't like it when people constantly ask if they can live on my sacred land," she said. "We are very welcoming to people who move here when there are job opportunities, but as of right now, there's no land, no houses, and no jobs available."
Although Dasia's way of living may seem far from conventional, there are many upsides to living on Chenega. The scenery is breathtaking, with uninterrupted views of mountain ranges and the ocean, and the island is bathed in sunshine and fresh snow and enclosed in thick stands of tall pine trees.
With such a low human population, wildlife on the island is thriving. Moose, reindeer, and American black bears are usual sightings. One of the most beautiful vistas on the island is to be found near the boat harbor, which offers views of the sun setting over the water each evening.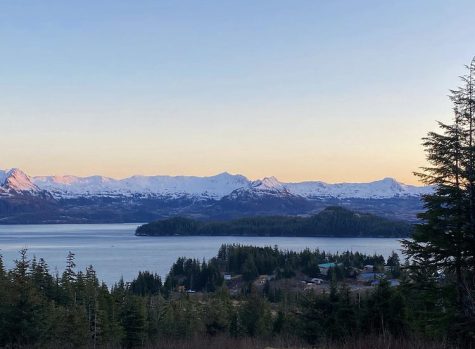 On such a small island with no outside resources, it's hard to believe that residents can access electrical power. In reality, however, the entirety of the island is supported by two diesel generators.
Pets are quite common on Chenega, and they enjoy certain liberties that might strike outsiders as surprising. 
"We all have dogs, and the super fun thing about all of the dogs here is that everyone lets them roam around the island. I don't know if that is normal, though," Dasia said.
Although this way of life may seem extreme or odd to some, it doesn't last very long. Most families on the island fly out to Anchorage every few months to get supplies and new clothes. Most of Chenega's residents stay on the island for around five to six years before leaving. 
The Gall family is planning to move out of Chenega next summer.
"After living here for five years, we will be moving next summer into a more populated area," Dasia explained. "I'm excited to meet new people and see more of the world, but I am sad to leave this beautiful village behind."
While Dasia's way of life is certainly not for everyone, it is remarkable to realize that such a place exists in the modern world, a place untouched by an otherwise relentless virus. Perhaps Chenega's lesson to the world in this difficult time is simple: The smaller the community, the stronger it remains.