The Fight to End CC Stigma
The stigma surrounding community college is a longstanding problem, but the movement to combat it is gaining strength.
Like a lot of other suburban high school students, I suspect, I was raised to equate community college with unsuccessful people. I used to joke that, as the youngest child, my parents would run out of money and send me off to CCAC. It was a joke that lasted many years, but I now see just how insensitive it was.
Community college, like any other post-secondary plan, is the right place for some students but not for all. For those who are not interested in pursuing a trade or enlisting in the military but are also not ready to make a full investment into a university, community colleges offer excellent educations for a fraction of the price of a four-year school. 
"
Community college, like any other post-secondary plan, is the right place for some students but not for all."
There's an unfortunate and longstanding stigma surrounding those who choose community college over a four-year school. But as the price of university tuition continues to rise, we may have to overcome this stigma and recognize just how valuable community college can be. 
The post-secondary American education system is undoubtedly flawed. This past school year, the average student's yearly tuition was $26,820, and the cost continues to grow. Community colleges, however, have an average yearly tuition of just over $3,000, helping students and their families save money to potentially invest in a bachelor's degree later on.
Too many people define success by a diploma from a four-year college or university, but the associate's degree offered by community colleges may in fact be a powerful stepping stone in the process.
According to Forbes, community college students who go on to attend a four-year school are 75% more likely to graduate. What community college lacks in school spirit and socialization, it makes up for in opportunity and rigor. Previous community college students are well-equipped to survive and even thrive in academic and workplace environments.
In fact, because they offer such career-oriented curricula, companies today are choosing to build relationships with neighboring community colleges and their students. The number of job opportunities for community college students is continuing to grow, and accordingly, enrollment numbers are increasing as well. 
In 2016, almost half (46%) of undergraduate students in America were attending community colleges. In an area like ours, where median income is over twice the national average, so much pressure is placed on high school students to achieve the typical college experience, but many less affluent communities rely on this cheaper and more efficient educational resource. 
Long overdue, it now appears that the negative perception of community college is beginning to fade away.
In February of 2019, Steve Robinson, the president of Owens Community College in Toledo, OH, started the hashtag "#EndCCStigma." 
"Intellectually, a lot of people understand [community colleges'] value proposition, and we've made a lot of traction, but we need to get out from a bunch of outdated assumptions about community colleges," Robinson said in an interview with Inside Higher Ed.
Through his social media campaign, Robinson hopes to shed light on the issues community college students and faculty face and tout the many advantages of  the community college experience.
Modern-day internet, however, is not the only place where people are working to promote these two-year schools. The television sitcom Community has given millions of viewers nationwide the opportunity to see what it's like inside the doors of a community college.
The show follows a diverse group of people—a successful attorney, a single mother, and a senior citizen, just to name a few—through life on the campus of Greendale Community College. Though the show is meant to be comedic, the challenges its characters face reflect those of real-life community college students. 
"
From the moment college becomes a discussion at schools, counselors should be educating their students on the pros and cons of every choice, including community college."
Though the fight against community college stigma is not over, there are more ways to educate ourselves, our families, and our neighbors on the benefits of community college, starting as early as our teenage years.
Too many children are not taught that community college is an option. In fact, many are taught to believe that it's a fallback. From the moment college becomes a discussion at schools, counselors should do more to educate their students on the pros and cons of every choice, including community college.  Likewise, parents should broaden the views on acceptable post-secondary plans for their children.  After all, an affordable two-year degree requires only two more years at a more expensive school for the graduate to earn a bachelor's.
Academic elitism is a stubborn prejudice, but it must be rejected.  Every educational diploma should be applauded because the goal is ultimately the same: to better ourselves. 
About the Writer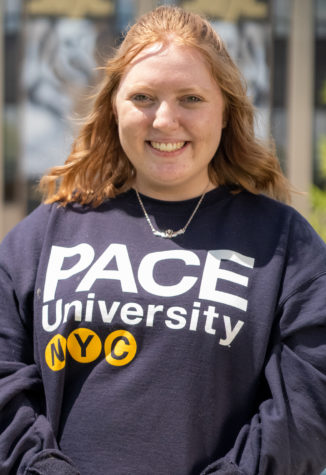 Lucie Flagg, Co-Editor-in-Chief
Lucie Flagg is a senior this year. She enjoys the finer things in life, such as sushi, napping, and her dog, Daisy. Along with writing for The Uproar, she also contributes to NATV. Outside of school, Lucie works at Naturally Soergel's, and she watches Impractical Jokers whenever that's not happening. Lucie plans to attend Pace University in New York City next year to pursue a career in media production.