Good Talk: Mr. Salopek
Meet NASH's new Assistant Principal!
Growing up, what was your dream job? Have you always wanted to be an assistant principal?
My dream job was always to be a teacher. I didn't know what I wanted to teach or where I wanted to teach, but it was absolutely to be a teacher and a football coach. I was passionate about football early on. It was a big part of my life growing up — all athletics were — but I definitely knew I wanted to be a teacher and a coach.
As this is your second time at North Allegheny, what makes this district so special?
I would say what makes North Allegheny so special are the people — the students and the staff. I think that there is a special culture here, and there is a very strong sense of community within our district. I think that there is a team feel, a team aspect about being a part of something larger and more important than just oneself. NA is special because of the people in the district.
How would people describe you in high school? 
In high school, I was a three-sport athlete, so I was very focused and committed to my involvement on those teams. I was involved in different clubs and activities, so I wasn't only an athlete. I did a lot of different things, such as student government, the Best Buddies organization, and the child development classes with the preschool children. However, at the same time, I was kind of quiet. I wasn't the most outgoing student. I had fun with my friends, kept to myself a little bit, and just had a good experience. I went to Norwin High School in North Huntingdon, a large now-6A school with some similarities to North Allegheny but a lot of differences. At the end of the day, it helped me to get to here, so I am fired up.
What will a normal day in the office look like for you?
Here at NA, I am still learning that.  I am a new administrator in the district, but I was an assistant principal for three years at Pine Richland. It is busy… super busy. The amount of things that happen in an eight- to ten-hour window for an administrator is crazy. It is something that you can never be prepared for until you step in and do the job. You are working with students, families, and staff while addressing all different kinds of questions. You really can't predict what the day is going to be like. But I would say that is what also makes it fun. I am on my toes all day long. I love being out of my office, working with people while I try to solve problems and find better solutions to make everyone's experience as positive as possible.
Since you went to high school at Norwin, what is it like to work at a competing school?
I would say that North Allegheny is the type of school that I always wanted to be a part of. Like I mentioned earlier about what I value about NA, it is the people. I think that is what separates NA from other schools and the reason why I knew I wanted to come back and work here even after I left for a few years. I absolutely love North Allegheny — the families, district administration, staff — it is a tremendous place to work. So I come to work every day not feeling like I am coming to work. I feel like I am coming to school to support people. My parents always encouraged me to find something that I wanted to do for my job that doesn't feel like work every day, and I can honestly say that I found that here.
What is one football memory that you will never forget?
I'll give you two: one as a player and one as a coach. As a player, I will never forget my first touchdown pass. It was early in the season, I came in during the second half and took over the starting job from that point on. It was awesome and the beginning of my college career. I coached here at North Allegheny on the 9th-grade staff and the varsity staff as an assistant. When I was working as an assistant, we beat the number one ranked team in the state, Pittsburgh Central Catholic. It was a huge game where our team played great and all of our guys put an amazing effort in. It was an upset win, but we believed in ourselves all the way through. We never gave up on that. It was a great team win.
Do you have any advice for athletes who are struggling with injuries?
I would say that is one of the toughest parts about athletics, the injuries that can occur when competing at such a high level. One of the hardest things to understand is the resiliency that is developed when handling a tough situation. In my junior year of high school, which was a huge year for recruiting, I broke my collarbone and I missed the whole season. I was so upset, I didn't understand why it happened to me, and I was so devastated. However, the work ethic that results from getting back to full strength and the learning experiences of being a good teammate and helping others to step up when filling positions was huge. So I would say to any athlete who is dealing with an injury to hang tough, believe in yourself, work hard, see how you can help others from the sidelines, and know that you are still part of the team and can have a very valuable role even though you are not out there competing on the field.
Since you coached and played, are there any football stereotypes that you think stand true or should be put to rest?
I would say recently those things are going away.  At North Allegheny, specifically, our athletes are tremendous students as well, and I think there is something to say about that. I think that there are a lot of life lessons that athletics teach student-athletes that help contribute to them being good students as well. I know that there are some traditional stereotypes, but what I always tell student-athletes is that you are a student first. What matters most at the end of the day is that your education is important, so I think that you should take the learning experiences that you get from athletics and apply them to your classroom to help you be a more well-rounded student.
If you could tell your teenage self one thing, what would you say?
Listen to your parents. They are right, they have had experiences far beyond yours, and although it is not the most popular thing that you want to hear, their advice matters and they are only trying to help. They love you or they wouldn't be giving you that advice.
What is something that you are currently obsessed with?
I am a big family guy, so I would say my immediate family — my wife and two little girls. My oldest is four-and-a-half and my youngest is three. They are the sweethearts in my life. I am one of three brothers, so rough, tough, and wrestling is how I grew up, but now we have these two little girls and we are learning every day how to take care of them and be good parents to the best of our ability. It is definitely my passion outside of my job.
Right now, if you were put in the ring with Floyd Mayweather, what tactic would you use to beat him?
Ohh, that would be a tough one. I would just try to hang in there and maybe take a punch, but definitely not too many of them. He is the best that there is. My secret might be endurance. I would try to outlast him. Maybe I would run laps around the ring and try not to let him catch me.
If you had one word tattooed on your forehead, what would it be?
Family.
About the Writer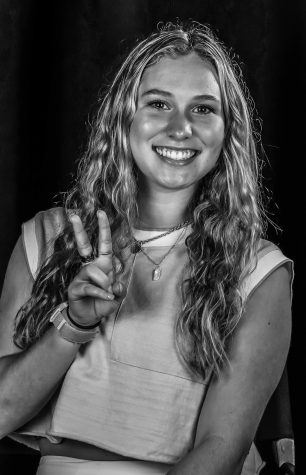 Kara Mihm, Co-Editor-in-Chief
Kara Mihm is a senior on The Uproar. She enjoys swimming and running, especially the pasta parties that are included. When not in school or participating in sports, you can find her online shopping with the money from her minimum-wage lifeguarding job. She is very excited about her second year of writing for the school newspaper.