At the Heart of NASH
One of the most visible members of the NASH staff, Main Office secretary Mrs. Foglio has a hand in everything from weekly bulletins to commencement planning.
Behind the glass doors of the Main Office on the first floor one woman embodies the optimism and school spirit that characterize the best of NASH, while also ensuring that every day at the school runs as smoothly as possible. Meet Mrs. Mary Anne Foglio, not only Dr. Dirda's secretary, but also secretary to seemingly everyone involved with the senior high school. 
Foglio, who once worked for Mellon Bank, has been with North Allegheny for 17 years. Throughout her career, she has gained a wide variety of skills that help her with her job today.
"I started my [educational] career at McKnight Elementary as a special education assistant," Foglio said. "When I came to NASH, I was the attendance secretary for a year, and then I was a counseling secretary back in the counseling office for six years, and then this is my fifth year as the principal's secretary. It gives you some sort of an idea because on the student side I understand applying to schools, doing your schedules, doing things like that. I have sort of a broad brush idea."
When she transitioned from the elementary school to the "big house," as she calls it, of the senior high school, Foglio was worried about the age difference. However, she soon came to realize that high schoolers are very similar to the kindergarten versions of themselves. 
"When I made the jump to the high school, I was kind of nervous. I thought, you know, with the bigger kids, what's it going to be like? It wasn't that much different! You're still the same person, just a little bigger. You're definitely more mature, and there's different issues and situations, but you're still the same person. They went from these tiny, little scared kids that blossomed into students who are mature."
"
When I made the jump to the high school, I was kind of nervous. I thought, you know, with the bigger kids, what's it going to be like?"
— Mrs. Foglio, Main Office Secretary
Foglio is also the mother of two North Allegheny alumni. While she was a counseling secretary, she was able to spend her younger son's senior year in the same building. 
"I kept thinking he may not like having his mom in the building, but he loved it," she said. "He called me his living locker because he would stop and give me stuff. Sometimes his friends would come in at lunchtime and we would sit back in the conference room and have a little chat. It was fun!"
The most impressive part of Foglio's job is the amount of work she puts in for graduation. Although graduation is a one-night event, she prepares for months to ensure that the graduating class finishes their high school career with a proud exit. 
"We start planning for graduation as early as December," Foglio said. "I order the diplomas and the caps and the gowns, and do the programs. That last year was really tricky. We did it in a completely different way than we had ever done it, but everyone rises to the occasion. Last year was so rewarding because people didn't think that we were going to have an in-person graduation because unfortunately we couldn't the year before."
Despite the pandemic, Foglio is able to look back on last year with pride. She appreciates the growth and patience that came hand-in-hand with the virus, even though her job as a secretary was made difficult. 
"You can't take all student files home. There were a lot of opportunities where I did need to come up to the building, but for short stints," she said. "You had to be really organized because you had to know what you needed to grab and when you were able to get in and take care of things you just couldn't at home. The best part of it was that everyone seemed to be a little more patient. People kind of understood that everybody was doing the best they could."
"
The big thing right now is that everyone needs to take a step outside themselves and look around to see how you can be there for each other."
— Mrs. Foglio
When she is not in the main office, Foglio enjoys spending time with her grandson, entertaining her family, and eating food. 
"I like eating, socializing, entertaining, and spending time with my family," she said. "I have a two-year old grandson, so I would say family is my biggest hobby. Capital Grille is my most favorite place to eat, but that doesn't happen very often. But even just Chipotle — I'm not fancy, you know, I like Mexican and Italian food."
It is readily apparent that Mrs. Foglio loves the district, students, and staff with her whole heart. Her love for North Allegheny is inspiring to everyone, and she is a constant reminder to approach each day with a positive outlook. 
"I'm always here to lend an ear or a hand," she said. "Everybody right now is a little bit tense and things are a little bit more difficult with COVID and everything, but everyone has each other's back at the end of the day. The big thing right now is that everyone needs to take a step outside themselves and look around to see how you can be there for each other. That's really important right now."
About the Writer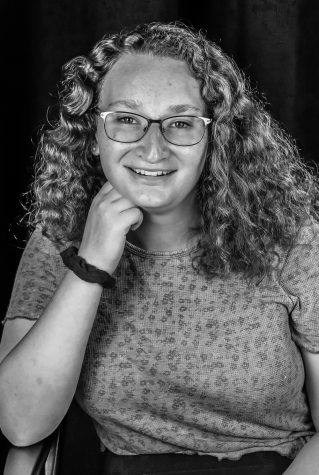 Emily Janosko, Staff Writer
Emily Janosko is a senior, and this is her first year writing for The Uproar. She also participates in marching band, indoor percussion, concert percussion, jazz band, and National English Honor Society.