A Review of Shang-Chi and the Legend of the Ten Rings
Not only do the complex storyline and characters live up to the Marvel standard, but the film's largely East Asian cast provides a representation long overdue in Hollywood.
Sally Cho, Co-Editor-in-Chief
September 14, 2021
The newest Marvel movie, Shang-Chi and the Legend of the Ten Rings, has smashed Labor Day box office records, bringing in $94.4 million dollars over the Labor Day weekend. 
The film has also become the highest audience-rated Marvel movie on Rotten Tomatoes, with a score of 98%, and landed itself as a top five critically-rated Marvel movie. 
On top of all these accomplishments, Shang-Chi, the titular character played by Simu Liu, is the first Asian superhero in the Marvel Cinematic Universe, and the movie also features a predominantly East Asian cast.
The story of Shang-Chi revolves around a valet driver who goes by the name Shaun, who actually turns out to be a martial-arts master raised by an ambitious warlord and a guardian of a mythical village.
His real name is Shang-Chi, and his seemingly normal life is flipped upside down when his father calls him back to the home he ran away from to help him complete a dangerous mission. He travels back to his home with his equally skilled sister Xialing, played by Chinese actress Meng'er Zhang, and his best friend, Katy, played by actor-comedian Awkwafina.
I have seen many Marvel movies, but Shang-Chi stood out to me especially due to its complex characters and story. At some points, I even forgot I was watching a superhero movie. Shang-Chi feels like a study of family, grief, and finding yourself told through the medium of a superhero movie.
The theme of finding and knowing oneself is present throughout the movie. In the beginning, Shang-Chi and Katy are berated by a friend for not finding their passion and working aimlessly as valet drivers well into their 20's. 
However, both Shang-Chi and Katy start to discover who they are and their capabilities as the plot goes on. Shang-Chi learns to connect fully with the side of him his mother taught him as a child, and Katy goes under the guidance of wise people who tell her, "If you aim for nothing, you hit nothing."
The arc that the two characters go through helps make this story feel more relatable and not just like an untouchable fantasy. That is something Marvel has always done well, which is one of the keys to their success—their ability to make superheroes feel like one of us.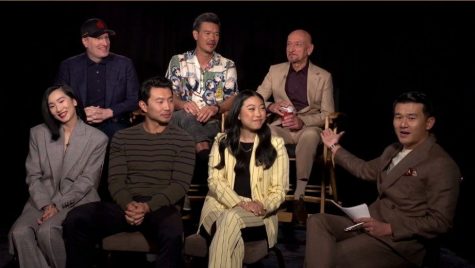 Another stand-out of the movie is the villain, Shang-Chi's father, Wenwu, played by acclaimed Hong Kong actor Tony Leung Chiu-Wai. 
One thing that makes or breaks a superhero movie is the villain, and Shang-Chi's villain definitely help to make this movie the success it is.
Wenwu is a complex character who you can't help but feel sympathy for while simultaneously blaming and hating him for his actions. I truly did not know, and still don't know, if I should feel bad for him or not. 
Wenwu's motivations for some of his actions can easily be understood by anybody who has a loved one in their life. However, do the tragic things that happened to him justify his actions? Does he truly redeem himself from his evil past?
These questions are left for the audience to answer, and it makes the movie that much more interesting and engaging.
Additionally, the fight sequences are some of the best in the MCU, feeling more like dances, with the characters moving so delicately and lightly. Shang-Chi achieves these wowing sequences by using various styles of martial arts.
"We're going to incorporate a lot of different styles of martial arts. Tai chi, which is very, very flowy. Another one is wing chun, which is a bit more combative, and then looking at different regional styles that kind of fill in this mosaic of how this character moves," Liu said in a featurette for the film.
Of course, a Marvel movie wouldn't be complete without some elements of comedy. With the casting of Awkwafina as the sidekick to the main hero, Marvel practically guarantees laughs from the audience. Anytime the plot starts to feel too heavy, Awkwafina's character is there to crack a joke. 
In addition to Awkwafina, the surprise appearance of Ben Kingsley, reprising his character as washed-up actor Trevor Slattery from Iron Man 3, garners many laughs.
Above all, I very much appreciated the appearance of the first Asian Marvel superhero. This movie is long overdue after the decades of discrimination and stereotyping Asian artists have been forced to endure in the entertainment industry. Especially after the past year of increased hate crimes that East Asians have had to face, representation is needed now more than ever. 
It sounds cheesy, but I'm truly glad Asian kids will be able to watch this movie and say, "I can be a superhero, too!" 
Even those who aren't necessarily fans of Marvel or superhero movies will enjoy Shang-Chi. There really is no need for prior knowledge to enjoy the movie, making it perfect for newcomers while also providing much excitement for returning fans as it is the first cinematic release revolving around a new character in Phase Four. 
Shang-Chi is a must-see with its glorious action scenes, engaging storyline, and intricate characters.  There is something in it for everyone.