What to Watch this Halloween
The holiday is as much about entertainment as it is dressing up and gorging ourselves on candy.
Aside from trick-or-treating and dressing up, entertainment is one of the most important aspects of Halloween. Though horror movies run year-round, they are exceedingly popular during the month of October and vital to maintaining the holiday spirit.
Director David Gordon Green of the newly released Halloween Kills, an addition to the long-running Halloween saga, capitalized on this time of year by releasing his movie in the midst of the month. The success of this idea was reflected in the film's sales.
The slasher film depicts a gory Halloween night in which Michael Myers, a psychopathic serial killer, comes after well-known characters. Though the movie mostly consists of brutal killing, it also briefly explains Myers's childhood, the early warning signs of what his future held, and how his first home connects to his crimes.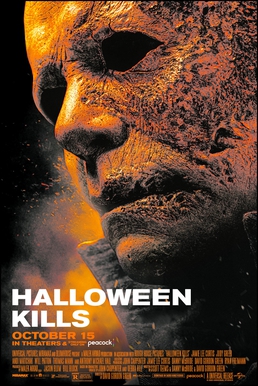 Jordan Peele's Get Out, a film that depicts a horror story of hypnosis and relationships through a lens of racism, similarly dives into the trauma that can affect the human mind and its impressionability. Rather than centering the assailant as the main character like the aforementioned film, the film instead tells the story of Chris Washington, played by Daniel Kaluuya, and his near-demise. 
Get Out's record-breaking success and almost perfect Rotten Tomatoes score puts it in the running to be considered a classic film in the future. Anne Thompson of indieWire even compared it to the works of "Alfred Hitchcock, John Carpenter, and Stanley Kubrick."
Two years later, Peele released his film entitled Us. It is a film that makes you scared to look in the mirror and pushes you to think philosophically about your place in the world. Like many other successful horror films, you can not forget about it once the curtains close because of how captivating the theme is. 
The Perfection, a horror thriller directed by Richard Shepard, did not receive such commendable reviews, but it portrays the main character's trauma and its effect on her savior complex. The twists and turns come often, and the action in between them is jam-packed with suspense and horror. The ending is rather shocking to watch, however, so this film is not recommended for younger audiences.
Director Ari Aster is well-known for his psychological horror films Hereditary and Midsommar, two critically acclaimed movies that cover strikingly different topics but are equally as thrilling and deep. 
Hereditary is especially perfect for Halloween, as it covers the idea of demonic possession and ritualistic sacrifices. Though Midsommar is more suitable to spring with its bright colors and flowery atmosphere, it is a fun Halloween watch as well because it is full of fear-inducing and hard-to-watch scenes. 
Both of Aster's films have extremely graphic and scarring beginnings marked by surprising death, and although Midsommar is technically more realistic because the protagonist Dani — played by Florence Pugh — is manipulated by someone she trusts, both are perceived by many audiences as something that could happen to them and change their lives for the worst.
Many of these horror films depict internal struggle or unrealistic stories, but The Platform, directed by Galder Gaztelu-Urrutia, serves as a microcosm of poverty, capitalism, and the global prison system. 
Chefs work at the top of a tall underground building, and then they send an extravagant meal down on a platform to every floor for a few minutes each. The prisoners can take what they want, but the catch is that there is nothing left for the lowest floors as the platform continues downward. These people are often left to their own devices and ultimately forced to starve to death. Prisoners are randomly moved to different floors every month, so they never know their fate. 
This film, unlike most horror movies, is extremely realistic in its portrayal of the world, and it makes an injustice that is very obvious to its victims much more understandable for people who do not explicitly deal with similar tribulations. 
If you need a variety of options, as well as longer and often more developed plot lines, the American Horror Story series on Netflix is the way to go. Each season has its own individual storyline that can stand alone, though some fans argue that it is best to watch the seasons in order. The show offers something for everyone, from witches in AHS Coven to commentary on the 2016 election in AHS Cult, and each new edition is frightening in its own way.
For lighter, more fun-filled watches on Halloween, Disney+ has a collection full of nostalgia and laughs. On it, there are easy-to-find Halloween episodes of both new and old Disney Channel shows, as well as classic movies such as Halloweentown and Hocuspocus. It also includes all of The Simpsons Treehouse of Horror Specials, which are perfect for families to binge-watch together. 
No matter what you decide to watch during the Halloween season, it is sure to be an enjoyable– or at least terrifying– experience for everyone involved.