What My Mother Has Taught Me
My mother's selflessness as a parental figure and role model shaped my four siblings and me into who we are today.
Sixteen years ago, my mother traded in her honey brown locks for a life of slowly accumulating gray hairs. She had just had her fifth child, and she didn't yet know exactly what she was getting herself into.
By the time my youngest sibling, Lauren, was finally exiting her troublesome toddler days, Kathleen Mihm had another fun adventure in store — her oldest daughter, Kristine, was starting the climb into her teenage years.
While athletics had always been a huge part of her life–she led North Allegheny in cross-country and track as one of their top female runners for several years– it became a crutch decades later in her daily goal of remaining sane. 
The moment our dad arrived home from work, we were kissed on the forehead and told that we would see her soon. The gym served as her place of refuge from five screaming children.
She was never able to fully escape at least one of our grasps as she headed off for the gym, so her love for exercise became our love, too. As soon as we could participate, our accompaniment at yoga classes, on long Sunday runs, and in sweaty spinning lessons promoted a yearning to join organized sports at an early age.
Throughout our various years in athletics, Mom took on the role of our ultimate superfan (of course, my father was not far behind, though he was usually chasing my youngest sister around as she ran off). There was never a grade school cross country meet where she did not run to different spots on the course, cheering us on as we pushed through the climax of each hill, never a swim meet where she did not supply a ziplock bag filled with at least five different protein bar options, and never a practice where she sent us off without a kiss and the best of luck.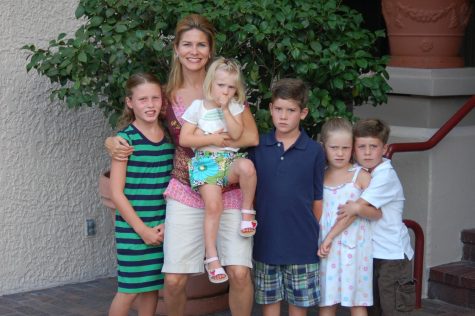 Through sports, my mom not only taught us the importance of persistence, but she also taught me, specifically, the understanding of when a chapter must be closed. 
Upon the sudden realization that my lifelong involvement in swimming was no longer supplying me with the joy it previously had, her advice to focus on the proud points of my career and move on helped me to realize my worth. 
Mom's diligence and adaptability are also on display every evening in the kitchen. For as long as any of my siblings can remember, a steaming home-cooked meal has been placed before us most days of the week. Her dishes never come in the form of quick pb&js or grilled chicken. Rather, they are extravagant recipes that held her captive in her haven for hours.
Equipped with the usual well-worn mixing bowls and dulling knives, my mother never wavered in supplying our growing bodies with all of the food groups. Her bribery of ice cream or cookies for dessert induced an immersion into our open-mindedness about healthy eating.
Her background in dietary and nutritional studies promoted a love for creating, something we were introduced to as soon as we could hold a mixing spoon. A small cabinet in the corner of the kitchen guards shelves piled with worn books, holding the pen marks of quick improvements and tips for the next replication of the meal.
Our habit of begging for a homemade cake instead of one from the store attests to her well-honed craft in the kitchen. Though she has instilled the importance of "health is wealth" in her children, she loves to invite occasional indulging. She calls this balance.
On that note of balance, my mother has always placed a strong emphasis on relaxation, though, not exactly by example. Mom would tuck us in Saturday nights, instructing us to "sleep until the cows come home" on our only day of rest from sports activities. But while our heads were still resting on the pillows, she had already started her day.
Surrendering the quiet mornings for the rest of her family, she bought groceries for the upcoming week, cleaned seemingly infinite piles of laundry, and cooked us a Sunday breakfast, all without a single complaint. Her selflessness as a mother comes naturally, claiming that there is no better job in the world than the one she received by birthing us.
Fueled by her love and her tireless energy, all five of us have been able to achieve success in one pursuit or another, accomplishments that are hers, too, because of the sacrifices she has made for us. 
While her last child will be out of the nest in two years, her motherly vigor still remains steadfast. In fact, her requests for hugs before bedtime have still not slowed down.
And if you ask me, I hope they never will.