Putting the 'Art' in Smart
National Art Honor Society membership has grown tremendously this school year.
North Allegheny is home to several honor societies, from the large, such National Honor Society, to the small.  National Art Honor Society, or NAHS, was once among the latter group, but the picture has changed.
"Last year we had 50 kids and we struggled to fill spots for events," said senior Publicity Director Zoe Ky. "Now we have 150 kids and are always getting emails about opening up more spots."
While other honor societies have strict requirements to join, the NAHS, which offers members an opportunity to be artistically involved and make a visual impact here at NASH, is different
"We understand that not everyone is able to fit the honors cord requirements into their schedule, so everyone is welcome to join. But because we are an honor society, we do have a 3.0 GPA minimum requirement," said NAHS President Sadie Han, a senior.
The only non-academic requirements in NAHS are a willingness to participate and a desire to improve the community.
Nevertheless, NAHS is similar to all honor societies in that it requires a minimum of 20 art-related service hours to qualify for a cord at graduation.
Communications Director Julia Pitell, a NASH senior, said, "NAHS is an organization that offers students interested in art an opportunity to bring creativity to our community through volunteer work. We do anything from set painting for the musicals to making teacher appreciation art and much more."
All service hour opportunities are provided and advertised by the club. Some are done at school in a group setting, while others can be done at home.
Han added, "Each of the officers plus Mrs. Swan [NASH art teacher and NAHS sponsor] works to organize around six to ten events per month to ensure that everyone gets the chance to participate and get hours."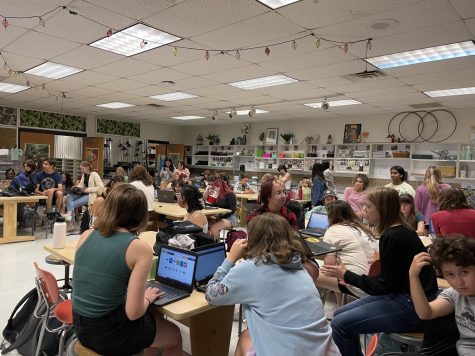 NAHS makes it easy to earn the required 20 hours, offering numerous ways to impact North Allegheny in an artistic way.
"We have a lot of opportunities, such as donating artwork, set decorating, and sign making. We even have a chance to gain an hour from just coming for open studio time," Ky said.
NAHS also gives students a chance to see what pursuing a certain artistic career may be like.
"If you want to be a teacher, come volunteer with us at the elementary schools," said Ky.
In addition, NAHS provides curious students with the ability not only to get involved and but also have fun doing it.
"It is a great opportunity to meet new people and make friends with similar interests as you. It's also a great way to make an impact on our school and community," Pitell said.
As Ky said, "NAHS is not an art class. You don't have to be good at art. You just have to be willing to participate."