Preserving the Past, One Song at a Time
Since beginning in 2002, the North Allegheny Fiddlers have performed traditional Appalachian music around western Pennsylvania.
On days when the weather is more inviting, visitors to McKnight Elementary School might see a small group of students sitting in a circle under a tree, playing the violin, banjo, bass, and mandolin. The unmistakable twang of Bluegrass and old-time Appalachian music drifts through the air, with lyrics speaking of an old oak tree.
The North Allegheny Fiddlers provides an extra-curricular experience different from a typical school orchestra class, but the group is also preserving the traditional music of generations past, songs that can easily be lost from collective memory. Senior fiddler Josh Morton appreciates learning music in the traditional style.
"Learning music by ear with no notes written out, I have been able to grow as a musician," said Morton. "It translates to all the other types of music that I play."
The songs played by the NA Fiddlers are learned by ear, with no sheet music provided. Each passage of a song is repeated several times until the melody sinks into one's rote memory.
Since beginning in 2002, the Fiddlers have played in hundreds of locations throughout Pittsburgh and western Pennsylvania. Over several years playing with the Fiddlers, I have played for large crowds and private events and watched senior citizens break out dance moves that I never would have guessed they had.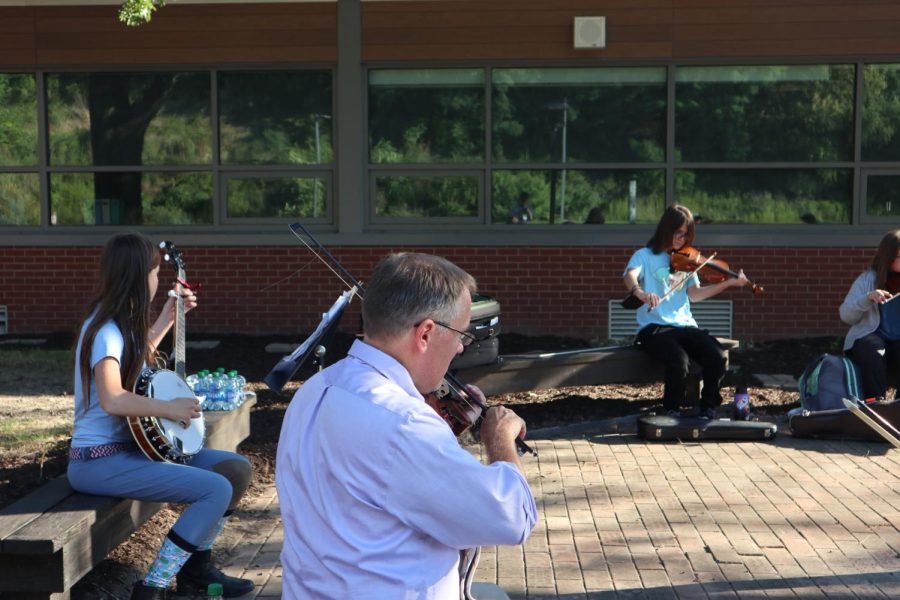 Mark Tamsula, a local fiddler and Appalachian music aficionado, teaches the Fiddlers their set list during a one-week workshop every summer. In the past, the workshop has been held at one of the NA elementary schools, but since the COVID-19 pandemic, it has taken place at the Moon picnic shelter in North Park.
"It's in everyone's best interest to know everything about where they live, especially where they grow up, and that includes history," Tamsula said. "Traditional music and dance might not be covered in school curriculums, but it has long been a big part of many people's lives and is definitely worth knowing about."
Mr. Dennis Morton, the orchestra teacher at McKnight Elementary School, created the Fiddlers in 2002 out of a personal love for fiddle music. The group gives the district's orchestra students an opportunity to learn a different genre of music from the ones typically taught in class.
"I have always really enjoyed folk music since as far back as when I was in middle school," Morton said. "I started the Fiddlers to share those songs that I have always enjoyed so much."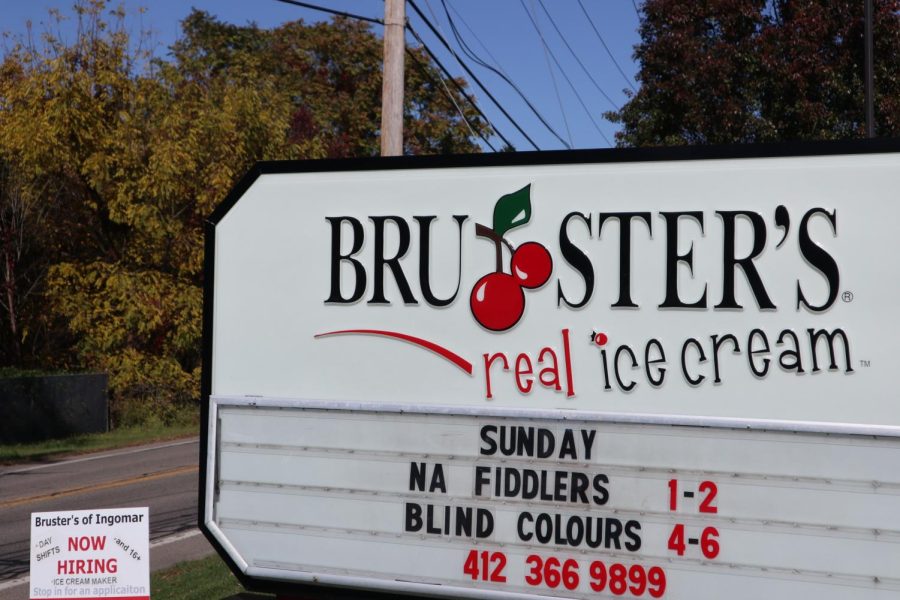 Tamsula says his desire to teach fiddle music by ear comes from a personal obligation to preserve folk music history. Most of the songs learned by the Fiddlers date back more than 100 years, with the oldest–known as Soldier's Joy–originating in the 1760s.
"If you look at American history, the sound of fifes kept troops together while marching through the noise of rifles and cannon fire," Tamsula said. "Fiddle music brings people together for community dances, providing relief that has long been important for the sake of our survival."
When asked if he has had a favorite song over the years, Mr. Morton said that he is always up for those songs that challenge him and his students. Basic fiddle tunes consist of two parts that are each repeated twice, but some songs include as many as four separate parts as well as challenging passages using some of the highest notes on the violin.
"'Old Virginia Reel' is our theme song that has been constant over the years," Morton said. "I like the more challenging songs for myself, like 'Lowry's Quadrille,' which have pushed the students and myself to new levels."
Senior fiddler Morgan Litz said that the heritage of fiddle music is an important reason why she participates in the NA Fiddlers.
 "Sharing old-time fiddle music with others means a lot to me," Litz said. "I love being in the fiddlers because I am surrounded by those who share my love of old-time music."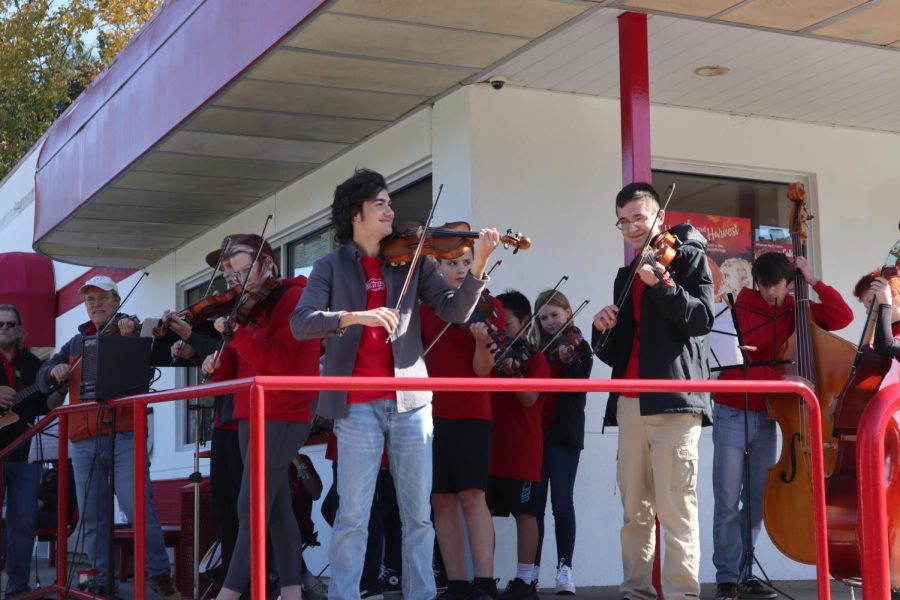 When asked if he has a favorite aspect of his years playing with the Fiddlers, Josh Morton said that his favorite part is simply seeing smiles on the faces of others.
"My favorite parts are the gigs and seeing people's reactions to the music," he said.
Although the Fiddlers are helping to preserve music in a traditional style, Josh's dad believes that the group mainly exists to foster a lifelong passion for music among NA students. A love for music runs in the family.
"I hope that the students take away a love of music from the Fiddlers and that they will be able to know these songs for a lifetime," Mr. Morton said.
---
Video of the NA Fiddlers performing at the January Ice Jam in Beaver Falls on January 21st