TuneWarp: Bars on Bars on Bars
Who's On Top and Who Should Be?
Hang on for a minute...we're trying to find some more stories you might like.
Drake, Eminem, Migos, Post Malone, Lil' Xan, Kanye West, Future, Logic, Rick Ross; some names that are thrown around quite a bit when talking about the current hip-hop/rap scene.
For those who know me, you know I'm primarily into 90's hip-hop and anyone that continues the trend in the 2000's. I'm old school, there's no denying, so I'd choose Wu-Tang over Kanye any day of the week. However, there are some rappers today that are straight killing it with every album they release, and their progressive platforms mixed with old and new school influences truly make them, in my opinion, kings of today's hip-hop scene.
So who do I think is super hot? Who deserves more recognition? Scroll down and find out.
Caution: Prepare for TuneWarp!
Top 5 Rappers in the Rap Game Today:
1) Post Malone
I would just like make it clear: this list is in no particular order. Regardless, this first pick is one of my favorite rappers and someone who is certainly well-known no matter what genre of music you primarily listen to. When I describe Post Malone, I often say he is more than just a rapper; the man is an artist. Back in 2015 when some random SoundCloud rapper released a song called "White Iverson," it was impossible to escape the incredible rhythm and the brand new voice that we would all recognize as Austin Post. When Stoney came out, Post Malone only kept rising to the top. Honestly, there is not one song on that album that I dislike, and I think "Broken Whiskey Glass" is the only song that I don't play frequently.
So what makes Post Malone special? His artistry and diverse musical taste and style influence his own writing and producing, and it's a style we've never heard before. All rappers have slow jams and acoustic tracks, but no one has a song that even begins to break through to indie listeners like "Feeling Whitney". I honestly don't feel foolish when I say Stoney is a hip-hop masterpiece and an instant classic because there are so many songs that I can never get out of my head! "Up There," "Go Flex," "Leave," "Feeling Whitney," the list goes on and on.
But ok, this is only his first album; Post Malone can't stay on top forever, can he? At the moment, it looks like he's planning on maintaining the throne for quite a while. "Rockstar" was a huge hit among his fans, and it has also been accepted by a wider audience because it utilizes a more traditional new school beat with heavy bass and a slicing topper. His latest single "Psycho" is also just incredible, so I think the upcoming album is going to make some huge waves. I am very impressed with Post Malone's lyrical writing as well as his beat producing, and the overall vibes in his music are emotional, relatable, and powerful. He's one of the best in the game, no doubt, and we are going to hear even more amazing music from him in the years to come.
2) Tyler, The Creator
Who dat boy? Tyler, The Creator, that's who! A lot of people criticize Tyler Okonma for being too weird, trying too hard to be progressive, and being too overwhelming with his music; I highly disagree. Tyler, The Creator is outstanding; he never fails to speak his mind with no filter while still making sick beats and rapping like nobody else. He's extremely unique, and his beatdown style mixed with the ridiculous and uncategorized creativity makes him one of the best hip-hop artists out there today. Cherry Bomb is a killer album, "DEATHCAMP" being one of the highlights of Tyler's career in my opinion. Ever since Goblin really put him on the map, Tyler, The Creator has never failed to test the limits of his writing and rap as a platform and genre as a whole.
I'll concede that Wolf definitely has a few songs that are an acquired taste, but the album that's keeping Tyler on top these days is his latest release, Flower Boy. A lot of people told me they actually weren't as into Flower Boy as his older work, but I'd argue the album is a huge step forward for the young rapper. Tyler's classic style is definitely still present, especially on "Who Dat Boy," but he also tackles his own insecurities and loneliness head-on with Flower Boy. His past albums touch on these aspects, the song "Pigs" immediately coming to mind where Tyler recalls his struggles in school and his battle with depression, but his latest album takes this to a whole new level with a whole new style of expression. "Boredom" and "911/Mr. Lonely" in particular focus on Tyler's struggles with depression, unrequited love, and other insecurities that he's been wrestling with for years.
The fact that he even came out with this album and changed up his style is an homage to his punk attitude; he's going to do what he wants in whatever way expresses his ideas best. The album is meditative, beautiful, and inspirational. He may be growing up a little bit, but it's not hurting his musicianship and undying ability to spit fire. Tyler, The Creator is cemented at the top.
3) Childish Gambino
Speaking of spitting fire, let's talk about Donald Glover for a second. He is truly a Renaissance man, displaying his comedic talents on the stage, acting on the big screen, and releasing hit after hit under the name we all know: Childish Gambino.
Even if you don't listen to rap and hip-hop regularly, there's a good chance you've heard "Redbone" from Glover's latest album "Awaken, My Love!". While it carries a heavy R&B vibe throughout and delivers a different kind of soul and energy than previous albums, I think "Awaken, My Love!" is an absolute masterpiece. "Redbone," "Boogieman," "Riot," and "Terrified" are huge highlights of the album and of Glover's musical library as a whole, but the other songs are heavy hitters too. Glover's debut with Camp received some harsh reviews and critics were quick to stomp all over it. While it is certainly the album I listen to the least, there are still some good songs on it, most notably "Fire Fly" and the fan favorite "Bonfire".
But the heat didn't stop Childish Gambino from crawling out of the pit of critical reviews and skeptical fans; two years later he released Because The Internet which, hands down, killed it. The vibes off that album are insane, Glover's beats are gripping and tight, and the album just captivates the listener. Right after the intro, we are unexpectedly sucked into the first song "I. Crawl" and then the rest of the album don't let go with songs like "II. Worldstar" and "IV. Sweatpants". "3005" was a smash hit and remains a recognizable song to this day, and it showcases Glover's ability to really go mad on the mic while still utilizing his beautiful voice.
What truly puts Childish Gambino in my top five is his diverse artistry, intense creativity, and the fact that you can vibe for weeks at a time on one album or even just one song! "Bonfire" is a great hype song, "I. Flight of the Navigator" is a perfect song to chill to, "Redbone" gives a smooth, relaxed vibe; the emotions and attitudes that Glover catalyzes are endless. I feel like I don't have to argue that Childish Gambino is one of the most unique and creative rappers of our time, but he's also not afraid to express himself through a wide variety of musical styles. Talented, inventive, incredible: Childish Gambino.
4) Logic
Who's been listening to Bobby Tarantino II? I was a little late to the party on Logic's latest album, but as I've continued to listen, it's crystal clear that Logic is solidifying his dynasty. We've never seen a rapper like him: skinny white boy that has command over the mic like no other. Bobby Tarantino I and II are incredible albums, both with immediate classics like "Flexicution", "44 Bars", "Everyday", "BoomTrap Protocol", and "Indica Badu" with our boy Wiz Khalifa. There truly is too much to say about The Incredible True Story, and with one glance at the album cover, even the hip-hop amateur knows its the album that rocketed Logic to the top of the game. I think "Run It" and "Fade Away" have two of Logic's best beats and his flow is just insane.
But let's not state the obvious; Under Pressure is what I really want to talk about. Back in sophomore year, I had never even heard of Logic until a close friend of mine introduced me to his debut Under Pressure. This was the first time I heard the song that I don't think anyone can argue isn't an untouchable piece of art: "Nikki". What really sets Logic apart is not only his superior beats but his intimate and incredibly crafted lyrics. On this particular song, the way Logic molds the metaphor of nicotine addiction and a toxic relationship of the past is mind-boggling, and the whole song completely blew me away.
Just recently, Logic released another smash hit, "1-800-273-8255", named after the number for the Suicide Prevention Lifeline. The song itself is so beautiful, but Logic cleverly crafts this song that inspires struggling listeners and delivers a real message of hope. The music video is even more powerful since Logic decided to not only tackle the issues of suicide but also highlight the struggles of sexuality in today's society.
While he can spit bars and hype up a room in seconds, Logic can also write inspirational and hopeful songs that hit listeners hard and can bring people to tears. His lyrical ability is unmatched in today's scene and his baller attitude is in perfect balance with his desire to make a positive change in society and his music never sacrifices when he focuses on one or the other.
What's next from Logic? Whatever it is, you might want to invest in a fire extinguisher because it might make your phone explode.
5) Kendrick Lamar
DAMN.: the album that made Kendrick Lamar sweep the rap category this year at the Grammy's. Do I think it is incredibly unfair and stupid that Bruno Mars won Album of the Year over Kendrick? Yes…but that's for another article.
Kung Fu Kenny has always been a favorite rapper of mine because of his sick flow, some of the hottest beats in the game, and Kendrick's immaculate and insightful lyrics. The man can rap like a maniac, but he also knows when to calm down and set a new tone. "LOYALTY.FEAT.RIHANNA." is one of those more relaxed songs where Kendrick doesn't melt the cover off his mic, but the vibes are still insane. The same can be said for "FEAR." I already mentioned that Kendrick's beats are some of the best I've heard on the scene, but something he does that no one else does is the creative use of layered vocals and harmonies. It's definitely unorthodox, but it's something that only Kendrick can really pull off.   I don't need to tell you how fire Kendrick Lamar's music is — all you have to do is think about all the hits he's put out. "m.A.A.d city", "Swimming Pools (Drank)", "HUMBLE.", "All The Stars (with SZA)" just to name a few.
Kendrick is a favorite in the rap scene, but that doesn't mean he's a sellout or bandwagon rider. In fact, Kendrick repeatedly writes songs about self-importance, women's rights and deserved respect, the struggles of being a black man in America, and other topics that you'll never hear Migos mumbling about through their drawn-out triplets. To Pimp A Butterfly is particularly distant from the current styles, as it could easily be categorized as a progressive 90's album (but it's absolutely gold). From good kid, m.A.A.d city to his appearances on Black Panther The Album, Kendrick Lamar has dropped hit after hit and refused to conform to society's trends and norms. He's a lyrical genius with a true vision for both lyrical content and beats that blow listeners' minds song after song. I'm excited to see what he'll release next, but as long as he keeps the momentum going from his past two released I'm sure a Kung Fu Kenny will give any expectations of mediocrity a roundhouse.
Top 5 Most Underrated Rappers Today:
1) Just Juice
This dude is going to blow up! I first came across Just Juice on Instagram of all places, and then his rhythm and flow just completely captivated me. "Amsterdam" is absolutely one of the best rap songs I've heard, but of course I'm a sucker for that synth-bass beat.
The story behind Just Juice is a really cool one too, as he and his brother both suffer from a serious health issue that requires weekly blood transfusions. A friend of mine actually knows Just Juice personally told me that when Just Juice was in the hospital he was visited by Logic, one of his heroes and greatest inspirations, and then Logic helped him initially get off the ground. The beats this guy produces are so fresh and really unique; his flow is just the same. Just Juice absolutely kills it on the mic — slow or speedy he'll make you lean back in your seat and say "whoa!". The Gold Lining is a must listen and his debut Lavish Life is equally impressive. His latest releases are maintaining the momentum he created on the first two albums and I'm not seeing him slowing down anytime soon. Just Juice is severely underrated, but he is definitely coming up fast. He's grabbed the attention of some pretty big names in the game, featuring Logic, Mojo, and Lil Yachty on a few of his songs. You need to check out "Amsterdam," "Escalade," "Visions (feat. Della Kinetic)," and "Catch Me," and you will not be disappointed. Watch out for this guy with the bucket hat, he's really going places.
2) Rob Curly
Rob Curly is one of the greatest chill-hop rappers out there today. He's gotten a lot of traction on YouTube, but this guy deserves to break into the mainstream. I discovered Rob Curly when he popped up on my friend's speakers on a late summer night. I couldn't help but bob my head, lean back in my seat, and completely give in to the welcoming rhythm of his music. Just that one song provided vibes for an entire vacation and a library of fresh rhymes and outstanding beats for days.
Rob Curly utilizes the classic chill flow with just the right amount of energy, but his beats are what really make him stand out. The high-floating backing vocals, heavy bass, lots of hi-hat, and sometimes a little synth melody help to drive the song along: that's Curly's recipe for beats that will melt you into the mood he's creating. Although he doesn't have a lot of experience outside of YouTube and SoundCloud, Rob Curly definitely has the skills to breakthrough to the central rap platform and really shake things up with his personal lyrics and one-of-a-kind beats. Make sure you take the time to listen to "Eleven 11: / 11," "Shoulda Made U a Mother," "Paradise," "Coolin," "Take Me or Leave Me," and "Amber" to get you going, and beware! You WILL be encapsulated in his flow and the rhythm of the bass!
3) Jonwayne
You might be thinking, "Isn't that the guy who played in all those old western-cowboy movies?" Let's be clear: John Wayne shoots pistols and spits in the dirt, but Jonwayne has a deadly flow and spits straight fire!
I'm a sucker for old school-style rappers and lo-fi-esque beats, and Jonwayne is a fantastic combination of the two. If Rob Curly is the king of chill-hop beats, Jonwayne certainly steals the lo-fi title. His are the kind of beats that you can only find from an underground rapper aspiring to make it big. If he keeps writing such diverse and seamless beats paired with a superior lyrical flow, Jonwayne will be a household name in no time. There's no doubt he's a rapper to reckon with, and all he needs is a little push by the hip-hop community to send him soaring. Jonwayne's latest album, Rap Album Two, is nothing short of a poetic masterpiece, and you can't go wrong if you choose to vibe out to this album. More specifically, though, check out "These Words Are Everything," "Afraid of Us," "TED Talk," "Passing Fancies," and "The Come Up pt. 1 & 2," and you're sure to get sucked into a world of blissful beats and beats to match.
4) Tech N9ne
Out of all my underrated picks, this is one name you may have heard before. Tech N9ne is an incredibly talented rapper who so frequently tests the limits of the rap genre that it's hard to really put a label on him.  While he's appeared on and written numerous songs with big mainstream rappers like Kendrick Lamar, B.o.B., and Busta Rhymes, and 2 Chainz, this speed demon is in a league of his own. Tech N9ne is as speedy as they come, and his chopper style mixed with his inescapable attitude delivers a huge punch of respect and awesome to his listeners. He's innovative and doesn't shy away from taking risks or speaking his mind. He uses his platform to combat critical reviews, a corrupted society, and conformity to cultural and musical norms. He even founded his own record label, Strange Music, to give himself and other indie rappers a platform to express themselves best.
Tech N9ne's ability to deliver a powerful message with an unparalleled speed puts him high on the list of rappers that deserve more recognition and respect, but even if he never goes mainstream I'm sure he'll continue to cause tidal waves in the underground that splash the surface more than we realize. Essential songs to check out: "Strangulation Cypher," "Fragile," "Dysfunctional," "He's a Mental Giant," and "E.B.A.H".
5) A-F-R-O
My final underrated rapper is nothing but exceptional, and his talents are slowly but surely being realized by the rap scene, even recently appearing on The Tonight Show with Jimmy Fallon. Don't confuse him with Afroman, because A-F-R-O can clean his room and rap so hard it'll melt your face off.
Don't believe me? Just take a listen to his part on Gift of Gab's "Freedom Form Flowing," which you can find on YouTube. But that's just scraping the service of A-F-R-O's ability. He develops tension in his flow, whether it be quicksand slow or lightning fast, and the listener is often not ready for the savage bars he spits out on every track. One of my favorite songs of his, "Code #829," is a perfect example of how A-F-R-O lulls his audience into a sense of security and relaxation with his slow-grooving flow, and then he suddenly assaults the mic with a speed and fury that is comparable to other top speed rappers like Busta Rhymes, Eminem, Twista, and the aforementioned Tech N9ne. But as I said, not only can A-F-R-O burn the mic with his blazing lips, he can lean back on a classic 90's beat and deliver absolutely beautiful lyrical verses. Although he's only released one album so far, I'm confident A-F-R-O's sophomore release will be just as fire if not even stronger than his freshman album. Listen to "Use These Blues," "Code #829," "Fro Armstrong," "Long Time Coming," and "Joe Jackson" if you want to experience a refreshing twist on a classic style; A-F-R-O is gunning for the rap throne.
*****
I hope you enjoyed my list but, of course, this is just an opinion. There are a lot of really amazing rappers out there, both in the mainstream and in the underground. There are plenty of people I enjoy listening to but didn't list, such as Lil' Wayne (sometimes), R.A. The Rugged Man, Mac Miller, Eminem, Earl Sweatshirt, etc. I'd love to hear what you have to say about my choices and what changes would you make to the top five. Any underground rappers that should've been mentioned? Please voice your opinions down in the comment section below, and be sure to check back in soon more music news and reviews on TuneWarp!
Also, for the underrated MC's, give them a listen and show them some love — you just might fall in love with their style yourself. Happy listening!
About the Writer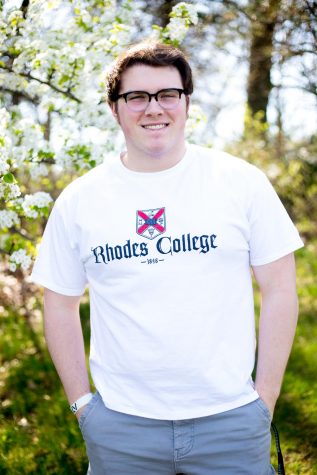 Davis Creach, Arts Editor
Davis is a senior at NASH. The sweet venom of poetry flows through his veins as a substitute for blood, because all the blood is located in his cephalic region due to excessive and passionate headbanging. Davis has a lust for all things rock and heavy metal, but also has a love for indie music and underground EDM. When he is not channeling Walt Whitman into his poetry, typing up opinions on the latest rock news, or contemplating the meaning of life, Davis enjoys testing the limits of his mind, body, and spirit against the downward force of gravity upon various weights and movements in an activity known as powerlifting.