The Hybrid Model
Right now, it feels like I'm living two very different lives — one where I go to school and one where I participate remotely.
Mondays and Tuesdays have quickly become my favorite days of the week. I wake up at six o'clock — earlier than I used to for school, which seems a little ironic my senior year. I get ready and then drive to NASH, where the parking lot feels a lot more empty than last year.
Inside, the halls feel bare, too. I suppose that this is a good thing given the circumstances, but there's something incredibly eerie about walking up the staircase by yourself on a school day.
Last year before first period, I used to squeeze into a packed booth in the cafeteria and laugh with all my friends. This year, I walk the halls a bit and go straight to homeroom to finish some work. Honestly, getting to any class early right now is extremely awkward. Having only five or six kids in a room makes for a lot of long silences.
As I go throughout my day, I try to be grateful for every second I get to be in the building, because I know in the back of my head that I will long for the in-person experience when I'm home the rest of the week. But as much as I want to enjoy school, it still feels a bit sad. All the distancing and the masks and the empty rooms are, of course, vital, but they also cast a kind of gloomy shadow. They serve as a reminder of how messed up things are, and no matter how much I love being back, that's a reality that is difficult to escape.
However, I still notice myself smiling and getting excited in many of my classes after many years of taking them for granted. That counts for something. My everyday interactions with friends and teachers have also become much more meaningful, and I think there may be a lesson somewhere in that, too.
On Wednesdays, Thursdays, and Fridays, my schedule looks drastically different.When I'm at home, I sleep in for an extra hour, throw on some comfy clothes, and log on to my computer five minutes before first period. Unlike some of my peers, I try to get up and sit at a table (the days where I stay in bed all day are the days I'm least productive).
Wednesdays aren't half bad, but by the end of the week, I have complete remote-learning-burnout. Some of the only silver linings about online school are being able to make an unlimited amount of coffee in the morning and the freedom to go get some food from wherever I want during my lunch period.
I also have to admit that, while I normally pride myself on being a good student, it's hard to limit distractions during virtual classes. Sometimes, I'll find myself tuning out without even realizing it. I'll unknowingly start gazing out a window or checking a notification on my phone. For that reason, I make an effort to put my phone away during lectures, if only for my own good.
Fortunately, most of my teachers have done an amazing job involving remote students in the classroom. They greet their online students as if they were sitting in front of them, and I still get to participate and ask questions over Blackboard Collaborate. It goes a long way in making the experience feel more normal. 
Overall, a day in anyone's life right now probably feels half-exhausting, half-exciting, and constantly bittersweet. While pretending to be patient and flexible may be the standard, in reality, school feels like a big, unknown roller coaster, and it's a little scary.
Maybe accepting that uncertainty, and embracing any good as it comes, should be the only things we currently strive for.
About the Writer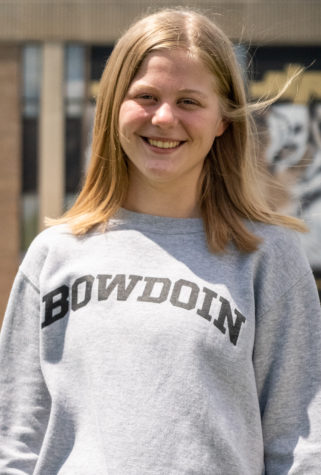 Kristen Kinzler, Co-Editor-in-Chief
Kristen Kinzler is a senior at NASH who loves expressing her opinions and drinking excessive amounts of coffee and tea. When she's not writing or rewatching Supernatural for the fourteenth time, she can probably be found playing lacrosse, reading, or watching hockey. She plans to attend Bowdoin College next fall.