Behind the Badge
For NASH School Resource Officer Todd Ray, student safety is the calling that decades of work in law enforcement have given him the honor to pursue.
Duty, honor, and respect for one another are three of the main values North Allegheny Senior High School's school resource officer espouses while protecting his school. Officer Todd Ray has been securing the school's campus for three years now, but few students know enough about the man behind the badge.
Born and raised in Shaler Township, Ray attended school in the Shaler Area School District. His youth was mainly surrounded by his seven siblings cheering him on while he participated in wrestling and ice hockey. 
During his high school years, he discovered his life's purpose of public service, which led to his ultimate decision to study law enforcement. 
"I believe my calling to serve as a police officer was the right direction for me," Ray explained.
Before that could occur, however, Ray had his heart set on joining the Air Force. After serving in the Air Force for eight years, he served two tours in the Iraq War as a soldier in the Army National Guard, achieving the rank of Master Sergeant. 
Upon his return but before joining the McCandless Police Department, Ray held a job at the Allegheny County Police Department. That job was short-lived, unfortunately, as he and 25 additional officers were laid off. To make matters worse, their jobs were taken away during the Christmas season. But despite the major setback for the 26 officers, they came together as one and were determined to find other policing occupations in the area.
"
Your safety and security mean everything to me, and I hope that the relationship that I build with the students here at NASH will extend beyond this building."
— Officer Todd Ray, School Resource Officer
It paid off in 1997, when he joined the McCandless Police Department. It was not until 2018, however, when he entered the doors of NASH's to vow to protect all students and staff within the building.
Around this time, there was a frightening spate of school shootings across the country. According to the Center for Homeland and Defense Security, there were a total of 110 school shootings in the US in 2018, the highest statistics in the past eleven years. 67 of those terrorizing events took place in high schools. 
It was then when the North Allegheny School District made the decision to hire school resource officers for the intermediate and senior high schools. Officer Mike Metzger took the school resource officer position at NAI, and Officer Ray landed the same position at NASH.
Since his first day at NASH, Ray has been a central part of school culture. During a typical school day at the senior high, students observe the safeguarding officer walking the halls, making sure students are safely making their way to their classes and enjoying time with their friends during lunch and after school.  In addition, Ray also conducts training programs for students and staff on topics such as internet safety, cyber bullying, drug and alcohol awareness, and driver safety. 
"I try to spend the majority of my day in the hallways, even up on the second or third floor," Ray added.
In case an unthinkably dangerous circumstance takes place, Ray wants to be where he is accessible and ready to take on anything that may come his way.  He is in close contact with the building's security vestibule, where the building's 144 security cameras are monitored.
But Ray's day is not spent entirely indoors. First thing every morning, he is outside, mainly on the southern entrance of campus, where he is able to observe any motor vehicle accident that may occur.
During the 2019-2020 school year, Ray saw a total of 26 student-related motor vehicle accidents.  This year, however, tells a different story. Due to the decrease in the number of students attending in-person learning each day, Ray has had to handle only one since September.  Ray also noted that drug and alcohol violations, vaping, and disciplinary problems have decreased amid the coronavirus pandemic. 
But regardless of the unique circumstances that define each school year, Ray's vision for NASH remains the same.
"Your safety and security mean everything to me," he said, "and I hope that the relationship that I build with the students here at NASH will extend beyond this building." 
View Comments (1)
About the Writer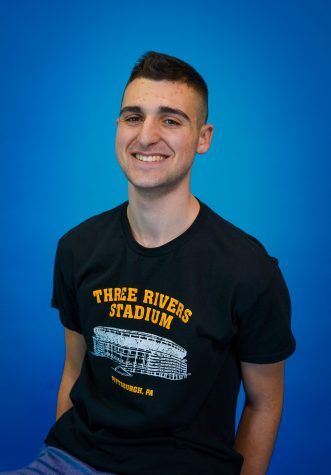 Anthony Durzo, News Editor
Anthony Durzo is a senior at North Allegheny Senior High School. This is his second year writing for The Uproar, although he has previously written for North Allegheny Intermediate's online newspaper, NAEye, for two years as well.  Outside of school, he played hockey at Robert Morris University for eight years and has played piano for six. After tossing his cap into the air and waving goodbye to North...