A Girl Power Playlist
In honor of National Women's History Month, here is a playlist of some inspirational women.
There are many inspiring female artists producing powerful music for women all over the world. It's no shocker why many young girls look up to these artists. They show off their confidence to the media. These female musicians radiate female power through their art. We as women have come a long way and will keep fighting and showing how awesome we are.  In honor of Women's History Month, I put together a playlist of songs that scream female empowerment. 
Confident by Demi Lovato
This song by Demi Lovato truly is a confidence booster. The lyrics basically ask, "What's wrong with being confident?". Demi screams nothing, absolutely nothing is wrong with having confidence. This song is a great song for younger girls to help show them their confidence is strength. 
Run the World by Beyonce
Girls, we run this world! Beyonce has said it all once again, without us the world would stop spinning. I remember screaming this song at the top of my lungs when I was younger. If a woman had a national anthem, this would be it. This song is both uplifting and high spirited. 
Independent Women by Destiny's Child 
A little 90's throwback is always a great addition to any playlist.  The lyrics in this song are absolutely empowering. The whole song is about being independent and not needing a man to provide for you because you provide for yourself.  Girls, make a living for yourself, don't ever depend on a man. 
Bad Reputation by Joan & The Blackhearts
Every time I hear this song I think of the movie 10 Things I Hate About You, when Kat pulled up to the stop sign blasting this song. The song basically says, I'm gonna do what I want to do and no one can stop me. This song is another throwback and more on the edgy side. Still this song will bring you to your feet and screaming.
You Don't Own Me cover by SAYGRACE feat. G-Eazy
This cover on Lesley Gore is featured in the 2016 hit movie Suicide Squad soundtrack. The song plays when the movie introduces the infamous Harley Quin. Grace sings about how women are not objects for men to control, play with, and even show off.  Stop treating women like toys and props for your entertainment. 
Girl on Fire by Alicia Keys 
We as women are on fire! Alicia Keys couldn't have said it better. Even though the song is slower, I always find my self belting out the chorus. Thee song discusses a girls success and how she will continue to succeed in life.  No girl needs a man to succeed.
Good As Hell by Lizzo 
Lizzo is such an icon. She preaches body positivity and being comfortable in your skin. Her songs radiate her confidence and I love that about her. She talks bout not needing a man to feel good about life in this song. It is such a great message for young girls to hear.
B0$$ by Fifth Harmony 
Fifth Harmony's Bo$$ is one of those songs everyone knows the world to. The group talks about being your own boss and making a living for you. They even talk about the inspirational Michelle Obama and earning "Opera dollars". Bo$$ is upbeat and very catchy, once you hear it you'll be singing it all day. 
Ain't Your Momma by Jennifer Lopez
Queen JLo is saying how she is not your momma. Ain't your momma blew up on Tik Tok back in 2016. She talks about she's not one's maid and is never gonna act like it. JLo isn't here to take care of any guy. She is here to have a fulfilled life made by herself. 
Stronger by Brittney Spears
It's Brittney B****! In this classic Brittney song, she's done with putting up with a guy, being treated awful. She is strong and will never need a man. Brittney has always been an inspiration to many people, and her music is still very relevant today.
About the Writer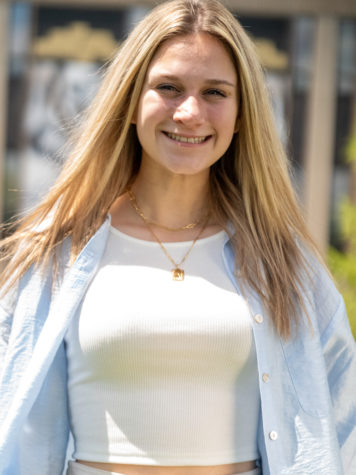 Mia Dudek, Staff Writer
Mia is a senior at NASH. This is her first year writing for the newspaper. When she's not in school, she is most likely playing soccer. She also loves drinking coffee.