Survivors' Stories
NASH will be honoring the day of Holocaust Remembrance with a documentary screening and Q&A session.
As the number of living Holocaust survivors continues to dwindle, the importance of sharing their stories has only grown with time.
On April 8th, the annual celebration of Yom HaShoah will mark the day of Holocaust Remembrance. This 24-hour period serves as a time to reflect on the lives that were lost due to the largest systematic murdering in modern history. 
GOAL facilitator Mrs. Bergman has organized an event to encourage students in 9th-12th grade to expand their knowledge on the stories of those personally afflicted by these atrocities. To celebrate Yom HaShoah, Bergman is screening the documentary We Shall Not Die Now on April 8th from 2:45 to 3:45. Students will have the option to view it in the NASH Library or on their own devices at home.
Ashton Gleckman
"The film focuses on hearing first-hand accounts — the primary source kind of things — which is really important," Bergman said. "It gives a broad overview of what was going on and how it impacted so many groups in society. I think that it is very worthwhile."
The film explores the stories of survivors and liberators who share their experiences during this horrific tragedy. It not only focuses on their story of resilience during the war, but on how they rebuilt their lives despite the intense memories that plagued their souls after liberation.
The young man behind the production of the award-winning film is twenty-year-old Ashton Gleckman, who conducted interviews across the United States, United Kingdom, and Poland. With over twenty-five interviews, his goal was to create a platform for the survivors and scholars to voice their trials and tribulations.
One of the survivors who appeared in the film, Frank Grunwald, revealed that Gleckman's creation is a touching piece of art. 
"We Shall Not Die moves quite quickly from one subject to another and there is a fast, dynamic intertwining between the actual documented story and the historical commentary by Holocaust historians," Grunwald stated in an interview with The Uproar. "When you combine that with all the clever cinematography and original music – I think the results are very moving and convincing." 
On April 12th after school, four days after the screening, Bergman has set up a time for students to ask their own questions to Mr. Grunwald in the hopes that the survivor-focused film will inspire students to ask about the lessons learned rather than exclusively the horrors experienced. 
"I hope that [the students] will stay away from the 'shock and awe' questions of the horrible experiences within the concentration camps and instead gravitate towards the question of what they can learn from that experience and how they can do their part in preventing it from happening again," she said.
Grunwald's story is a near-death experience. But although he admits that the theme of his account is common among that of his neighbors in Europe, there is a slight variation in his.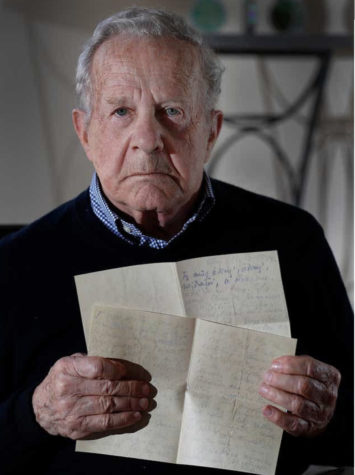 "What is very special about my story is the fact that I survived the Holocaust," Grunwald said.
The survivor was six-years-old when his family was transported to Auschwitz/Birkenau. There was nearly no chance for his survival. However, a German prisoner pushed him into a nearby group filled with older boys. That small action is what ended up saving his life.
As Grunwald and his fellow Holocaust survivors grow older, they pray that their stories are kept alive. As much as it hurts them to recount the horrors of the genocide, they put aside their heartaches as they pay homage to those who do not have the ability to do so.
"It's emotionally draining, but I feel that it's my duty to be the voice for those who aren't here," Grunwald expressed in an interview with the Towne Post Network.
For those who question how they can do their part in preserving the Holocaust so that it is not a forgotten subject, Grunwald insists that the passing on of stories is most important. 
"I think that we must continue to teach and explain the history of the Holocaust to future generations and make sure that those future generations keep on telling it to the next generations," Grunwald said.
For those interested in viewing both the documentary and attending the Q&A event, students and teachers can sign up to attend using this link. For any questions please contact Mrs. Bergman at [email protected]
About the Writer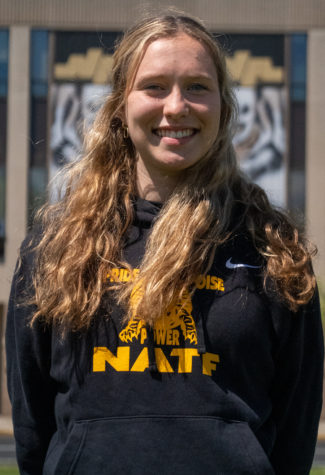 Kara Mihm, Staff Writer
Kara Mihm is a junior writer for The Uproar. She enjoys swimming and running, especially the pasta parties that are included. When not in school or participating in sports, you can find her online shopping with the money from her minimum-wage lifeguarding job. She is very excited about her first year of writing for the school newspaper.