Good Talk: Mr. Tengowski
Hang on for a minute...we're trying to find some more stories you might like.
How long have you been teaching here at NASH?
This is year fifteen for me at NASH. The days have come and gone; I have remained. Before that, I student-taught at Sharon School District up north near New Castle. Loved it up there. Then I was hired at West Middlesex and later got the opportunity to work here. I have been here ever since.
When did you realize that you wanted to be a teacher? What is your favorite part of teaching?
I figured it out in high school. Some of the strongest personalities that shaped my thinking and how I was as a young person came from my teachers. I still thank them to this day, because they got me into something that I really love and enjoy. My favorite aspect has got to be the daily interaction with the kids. Most people try to find something negative about their job, and there are negative aspects of this job as well, but coming in and talking to such great kids every day keeps you young at heart, and I really appreciate the opportunity to do that on a daily basis.
What class do you like teaching more? Econ or American History?
Oh, it's American History one-hundred percent. I'm so passionate about the subject. I really like teaching Econ, but there's just something about teaching American history all the way to the present day. I took APUSH in high school, and we didn't even make it past the end of WWII. Now, Mr. Lyons and I get to spend nine days teaching about President Obama and President Trump. So I think it's a really cool thing to get to that level of detail on such an important aspect of our country's history.
What is your favorite event or who is your favorite president to teach about? Least favorite?
Well, two things: my one favorite event to teach is the JFK assassination — I think everybody enjoys learning about that stuff — and the other one is the Great Recession. I think it's such an important time in our history because you see that if you aren't getting involved in what's going on, it can really hurt the country. I think it's important to learn why it happened so we can make sure it doesn't happen again. My least favorite thing to teach in AP Econ is factor markets — I hate those dang things. As for American History, there is not a part of the subject that I don't enjoy teaching. However, the only negative aspect that I can think of is that I wish we had more time to delve into the important issues that we only get to touch on during the semester, such as the women's movement in the 70's. We definitely touch on some of the aspects, but we don't really get to see a lot of depth. We don't have the opportunity to spend as much time covering the Vietnam War, and I think that's a very important aspect of our history. So I think that's my least favorite part. I wish I had more time to cover some of those subjects more.
What is your favorite tv show? Movie?
I love The Walking Dead, and — this may be surprising or not, I don't know — but I am a huge X-Files fan. I loved the tv show, and now it's back.  I've always loved the story of Mulder and Scully and the science fiction aspect of the show. As for movies, I could get it down to three probably. In college it was Animal House–I just thought that was the funniest thing in the world. I love Interstellar. I thought it was really well done. And I have always been a closet fan of the movie The Hunt For Red October. It's a Cold War movie with Sean Connery, and it's always been one of my favorites.
What do you like to do for fun?
I coach football and love the competition of that. I love being around my kids and my family. I coach Mikey's little league baseball team, I help out with my daughter at Allegheny North Swim and stuff like that. I like getting involved in the school. I love chaperoning the dances, and I am also the Chancellor of the Dodgeball Tournament, and I am glad for that to come back again. I also love to cook — I think you should cook as much as you possibly can, so I cook all the time. When I was younger, my dad worked a lot of nights and my mom wouldn't get home until late and I was an only child, so I had to learn how to do some of that basic cooking. That's where it began. In college, I would wake people up on Sunday mornings. In the fraternity house, we had a big griddle and toasters and all that, and we would just cook. And then all the guys would come in and grab sausage, eggs, toast, and things of that nature. It was always fun and a great way to spend time with the guys.
If you could save one thing in a house fire, what would it be?
I have an external hard drive with all of the photos of the kids and the family I have taken. I would want to save that because everything else can be replaced. They are just things. But pictures tell a story and bring back memories of things that we have done and experiences we have had.
What is your favorite color?
Blue, like my striking eyes.
Favorite college football team? Do you like college football better than the NFL?
Ohhh, the Buckeyes of Ohio State. I do like Notre Dame, too. I think that college football is one of the greatest things out there. I love the passion, the pageantry, and the traditions of college football. Mr. Solenday and I talk college football all the time. I like it better than the NFL, absolutely. There's something about the rivalry in college football that you miss out on in the NFL. Plus, getting to go on campus I think is such a cool thing and seeing all of the traditions is amazing. When I retire, I would like to travel around and see more of those traditions.
If you could meet any president, who would it be? What do you think he would say about where America is at this point? 
Teddy Roosevelt. His actions were really controversial at the time, but he, in my opinion, did it for the best reasons. He pulled the country in the direction that he thought it needed to go. If he were alive today, he'd probably be out of his mind. He would question why and how our citizenry has allowed us to get to this point. I think he would be very disturbed by what he'd see.
What item of historical importance do you wish you owned?
THE COCONUT!
One more question: Will we be seeing your name on the presidential ballot of 2020?
Absolutely. I figure I could do just as good a job as these guys. The media won't have much to talk about if I win, though, because I won't be talking about Russia and all those things like that. I will actually try to be making America great again, unlike the yahoos that are in there right now.
About the Writer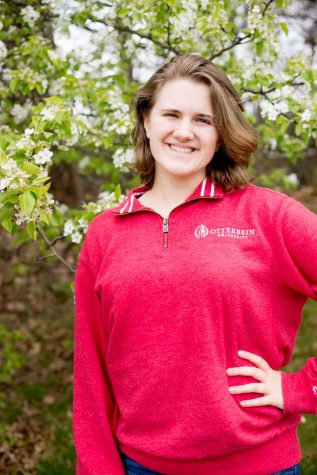 Madelynn Stibbard, Head Interviewer
Madelynn Stibbard is a senior at NASH and will be attending Otterbein University.  She is the Head Interviewer of the NASH Uproar. Her interests include...