Nothin' Gonna Break His Stride
Ayden Owens continues to set records in his pursuit of the ultimate medal
Hang on for a minute...we're trying to find some more stories you might like.
Named by The Pittsburgh Post-Gazette as one of the nation's top decathletes, Ayden Owens is bound for the University of Southern California next fall.  Last month, he set a state record in the 60m hurdles and won a national title.  We were delighted to sit down with him for a quick interview in the midst of  a busy spring semester.
How long have you been running track?
I have been running track since fourth grade. I ran for a city track club called Nadia located in the Northside.
What events have you done in the past and what events do you compete in now?
I actually started as a distance runner, which is funny. My coach thought I was a distance guy, but I started bulking up a bit and he put me in the hurdles. Short hurdles were really my first best event. Then I went on to be a decathlete when I realized I could do a lot more.
When did you start doing the decathlon?
I started the pentathlon first. It's basically the decathlon for young kids, and it's only five events. I started that when I was twelve.
What events make up the decathlon?
It consists of two days and ten events. The first day is the 100m dash, long jump, shot put, high jump, and the 400m. The second day is the 110m hurdles, discus, javelin, high jump, and 1500m.  
What is your favorite event?
My favorite event is definitely the 110m hurdles. I started to pick up pole vault recently and I love it. It is a thrill and is probably my second favorite. I have been trying to work on it for two years now. I am not where I want to be with it. Every day you have to be able to get stronger and continue to work on technique with different coaches. I have worked with Olympians and coaches all around Pittsburgh to help me with my form.
What coach do you think has helped you the most over the years learn the skills you know now?  
Every one of my coaches has contributed. All of my coaches from NA, obviously. But the first coach who ever got me into everything was coach Oronde Sharif from Nadia Track Club. He was the one who continues to coach me now. He definitely got me into track and field. He was the one who really taught me most of what I know.
What coach do you look up to most?
I don't want to put any coaches under the bus. [Laughing].  But like I said, my first coach ever, Oronde Sharif, was the guy who's been my inspiration. He has always motivated me to be the best athlete I can be. He continues to work with me to try to hit all of my goals and reach all of my aspirations.
Have you played any other sports? If so, what?
I have. I played basketball freshmen year and was the point guard. I played football freshman and sophomore year and was a wide receiver. But I decided to stop playing those both so I could stop getting hurt and start focusing on the sport that was going to get me a scholarship.
Why did you decide to just focus on track?
I love track and the individual aspect of it. It was for me. I didn't get along with football or basketball. With track, everything you do is on you. You don't have to worry about anyone else. You don't have any blame for anyone else, and it's all on you. I think it really makes you evaluate yourself as an athlete.
You are committed to USC. Was that a hard decision for you?
No, it was not a hard decision for me. USC is the place I always wanted to be. I guess Virginia, Michigan, and Stanford were all good candidates, but when I visited USC it was just way different from the rest. The people were way more motivated and inspired to be better on the track and in the classroom. The vibe there was so different then the other schools. I am telling you, nothing is like USC. Nothing is like Southern California, the LA weather, and the Trojans out there. I love the family and the network I am going to be part of. I think that it's definitely going to bring out the best in me as a student and athlete.
What do you plan to major in?
Biomedical engineering. It's not a common major for athletes. I will have a full load, so I have really been working with my academic advisors trying to figure out a schedule that will work. It's going to be a lot, and I am kind of worried. But I know NA has definitely helped me with time management.
What job do you plan to pursue in this field?
I think that one day I would like to run some research and be able to develop medical devices that could assist those who are injured/paralyzed and help improve their lives to do what I am doing physically.
What records have you broken throughout high school?
I have a lot of school records. I have the 200m dash school record, 300m hurdles school record, long jump school record, 110m hurdle school record, and decathlon school record. I also have two state records in the 60m hurdles indoor and the 110m hurdles outdoor. I won indoor Nationals this March in New York. I won at the 60m hurdles, and set the #4 fastest mark ever by a high school athlete in that event. I also finished second in the pentathlon there.
Do you think you will have the opportunity to break any more this season?
Yes, that's my goal. I want to close out my senior year with a bang. In all seriousness, I want to help the team win WPIALS and break as many records as I can in the process. I also plan on attending Worlds in Finland this summer. It is separate, and you compete through a country. You have to qualify to try out with a certain time. Then you have to try out for your country's team, and if you make it you compete with the world's best.
Do you plan to compete in the Olympics?
Yes. 2020 is a goal of mine. I spoke with my coach at USC, and he said that's what we are working towards. If not 2020, then 2024. It's been my goal since I was young.
What professional athlete do you look up to the most?
I have two. Muhammad Ali and Usain Bolt.
About the Writer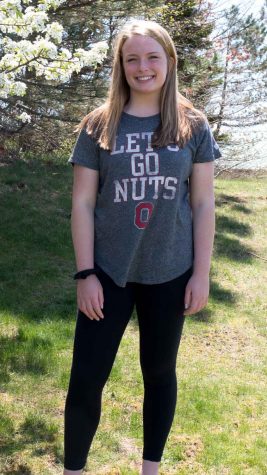 Josie Wadlow, Editor-in-Chief
Josie Wadlow is a senior at North Allegheny. She wrote for the school newspaper last year and is returning this year as The Uproar's inaugural Editor-in-Chief....